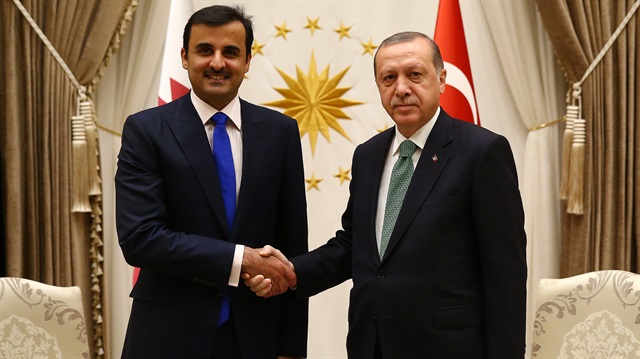 President of Turkey, Recep Tayyip Erdoğan (R) shakes hands with Qatari Sheikh Tamim bin Hamad Al Thani (L) at Presidential Complex in Ankara, Turkey.
Saudi Arabia, Egypt, the United Arab Emirates (UAE), Bahrain and Yemen announced in June 2017 that they cut diplomatic ties with Qatar, accusing Doha of supporting terrorism, charges that Qatar denies. They also imposed a land, sea and air blockade, causing the largest diplomatic crisis in recent years.
However, it was later revealed that the Gulf crisis was not limited to the blockade and that Saudi Arabia and the UAE wanted to overthrow Qatari Emir Sheikh Tamim bin Hamad Al Thani and replace him with his nephew living in London. Turkish units guarded Sheikh Tamim's palace and prevented the coup.
Mehmet Acet, a coloumnist for Yeni Şafak daily, in the Turkish publication Gerçek Hayat magazine reveals the details of a coup attempt in Qatar that Turkey foiled on June 5:
I will explain the situation at Emir Sheikh Tamim's palace the day the Gulf crisis broke out in Qatar, on June 5, and Turkey's critical role.
It is such an important role that without the critical intervention on that day, everything would be different, and the history of the region would be written differently.
It was one question that allowed us to reach the news.
I asked it to a key figure in the Cabinet:
"Was Turkey the main target in the Qatar issue?"
Were they actually referring to Turkey?
My source said "We should not think of it in that much detail," and added:
"They (Saudi Arabia) told the United States that they had made a $350 billion deal with them. 'Support me. Let's replace the emir in Qatar,' they said. That's just the way it is. As Mr. Erdoğan did not allow this, their plan was ruined."
"As Mr. Erdoğan did not allow this…" Pay attention to this emphasis.
Everybody knows what our president did during this process, at least the part that was disclosed.
He declared that he stood by the emir of Qatar, called him to express his support on June 5, sent food aid by planes and conducted a busy international phone traffic…
We know that President Erdoğan has done such things since June 5.
But the phrase "did not allow…"
Did something else happen that we do not know about?
Turkish Special Units at Qatari Emir's Palace
Days after my meeting with the cabinet member, while in talks with Qatari officials during meetings, there was mention of a great heroic tale of Turkey and Tayyip Erdoğan that reached my ears.
What was told was hair-raising.
According to the report, on the night of June 5, the day the Qatar crisis began, Turkish Special Units protected Qatari Emir Sheikh Tamim bin Hamad al-Thani from a coup attempt.
The information we obtained went like this:
"A well-timed deployment by selected Turkish units to the palace secured the Emir's palace and saved Sheikh Tamim from a surprise attack and coup attempt.
"The Saudi and Emirati special units were then forced to turn back halfway as they moved to install the Qatari Emir's London-based nephew in his place."
So, was what was told true?
Did a specially-trained Turkish team really save the Qatari Emir from a coup attempt?
Although I had confidence in my source who is operationally qualified, there was still a need to get a confirmation due to the fact that we were dealing with a very important subject.
I knew where to turn to for confirmation.
A high-ranking government official who has a seat at the table of most decision-making mechanisms in Ankara.
Turkish special unit of 200 troops in Qatar
On the night of June 5, nearly 200 specially trained Turkish units that were deployed in the regions/countries near Qatar were mobilized upon an order from Ankara.
The target was the palace of the Qatari emir.
The task order was to prevent a possible coup attempt on that night that would be carried out by another country or countries against the Emir, and to provide security for him and his palace.
The mission was successfully completed.
Meanwhile, specially trained units of Saudi Arabia and the UAE were about to take action for the same target.
Rumor had it that they had already set off.
But their goal was contrary with that of the Turkish troops.
They wanted to go to the palace, neutralize and topple the emir, and stage a coup.
But the Turkish units acted sooner.
Specially-equipped units arrived at the palace on time and ensured the security of the emir.
Thus, Saudi Arabia and the UAE's special units failed to overthrow Sheikh Tamim bin Hamad Al Thani with a coup.
Now, the words of the Cabinet member were making sense.
"As Mr. Erdoğan did not allow this, their plan was ruined."
We reached another piece of vital information from an authority figure in our attempts to confirm the events at the Qatari emir's palace.
That night planes of the Turkish Armed Forces, with the motors running, were on standby to act in the case of a situation arising.
If need be, these planes would take flight and set off toward Qatar to fulfil the mission they were given.
However, it was seen that this was not necessary as the land operation achieved its goal.
The emir's requests from President Erdoğan
Now we can pursue another question: How did the idea to save the Qatari emir from the coup with the special Turkish units taking action develop?
Most likely after a telephone conversation.
The Gulf crisis erupted on June 5.
Led by Saudi Arabia, some Gulf states and Egypt suddenly severed relations with and imposed a blockade on Qatar.
After the news reached Ankara, Turkish President Recep Tayyip Erdoğan started an extensive phone traffic.
On June 5, one of the first people the Turkish president spoke to was Qatar's emir.
The stream of events display that after the emir explained the situation, he made a special request from Erdoğan on ensuring the security of the palace.
The developments that follow show that the emir made two critical requests from Erdoğan.
1. Before Saudi Arabia and the UAE act, Turkey must act and prevent this coup. That was indeed what happened.
2. Ankara must hurry for Turkish soldiers to be put on duty in Qatar. We know this because events developed exactly in this way.
The Gulf countries made a 13-point list of demands in order to restore diplomatic relations with Doha, which it had to respond to within 10 days, including the closing of a Turkish base.
Why do you think they made such a request?
The answer is very clear, isn't it?
They would not be able to stage a coup while Turkey was around.
Qatar rejected these demands.
At the end of such a report, do you think that Qatar's emir will shut down the Turkish base in Doha?
6 yıl önce