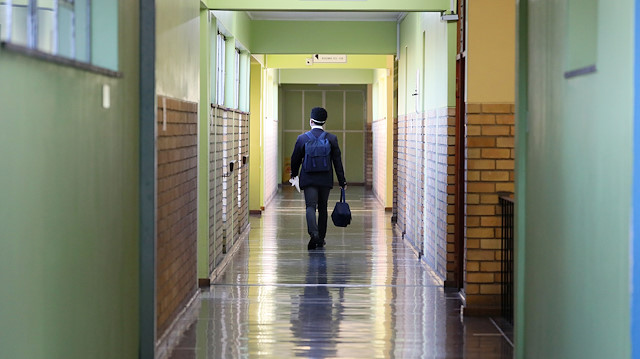 Schools in South Africa started reopening Monday for the beginning of the 2021 academic year, after a delay by weeks due to the second wave of the coronavirus.
Schools had been shut in South Africa since December and were expected to reopen late last month, but the opening was delayed by a fortnight due to a surge in COVID-19 infections.
Basic Education Minister Angie Motshekga said the education sector has lost 1,169 educators as a direct result of COVID-19 and the top priority in reopening of schools is emphasis on health and safety of teachers, learners and staffers.
"We will continue to maintain the delicate balance between health and safety in schools on the one hand, while on the other, we will deal with the curriculum gaps identified during the 2020 academic year,'' the minister said in a speech late Sunday.
She said this year alone, till last Friday, the number of deceased educators stands at 159; while 63 deaths have been recorded for non-teaching staff.
"This is really heart-breaking, and we convey our sincere condolences to the affected families,'' Motshekga said.
South Africa has the highest confirmed cases of COVID-19 across the continent with nearly 1,5 million infections and almost 48,000 deaths. Around 1.4 million people have recovered from the deadly respiratory disease.
"We can't continue to keep our children at home because we don't know when this COVID-19 pandemic will end," Marian Ahmed, a parent of two school-going children, told Anadolu Agency outside a school compound in Johannesburg.
She said that school managers should ensure staffers and learners are always wearing masks and observing health regulations to prevent the virus from spreading further.