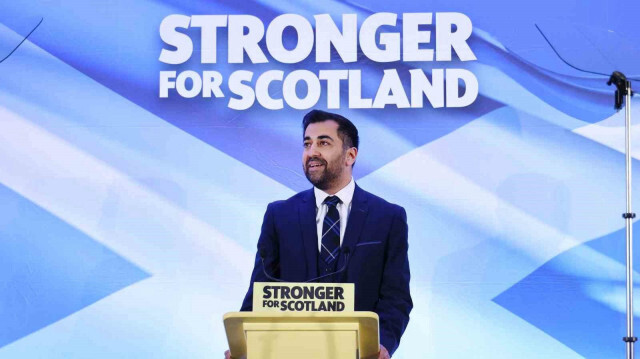 Scotland's newly elected First Minister Humza Yousaf
The members of the Scottish Parliament on Tuesday elected Scottish National Party's (SNP) leader Humza Yousaf as the new first minister. The 37-year-old received a chamber majority with 71 votes.
Yousaf became the first Muslim to lead a major UK party, and is the first ethnic minority leader of a devolved government in the UK.
Scottish Conservative Party leader Douglas Ross came second in the contest, receiving 31 votes.
Speaking after the vote, he congratulated Yousaf for becoming the first ethnic person to be the first minister, which "sends a message" to everyone that opportunities exist for all in the UK.
Some members of Yousaf's family were also present at the parliament with their traditional South Asian clothes to witness the historic moment in Scottish politics.
"This is a proud day for me, for my family. I can hear my three-year-old speaking to me, and waving to me from the chamber," Yousaf said. "I hope today's also a proud day for Scotland as it speaks to our values as a country as I stand here as the first ever Muslim to lead a Western democratic nation."
He said he feels like "the luckiest man in the world" and spoke of his family's background as immigrants to Scotland.
The Scottish Greens' co-leader Lorna Slater said they were happy to lend support to Yousaf and be part of the SNP government.
"Today represents a historic milestone. Our youngest ever first minister, our first Muslim leader, and the first minority ethnic leader of a devolved government in the UK," she said. "It also represents the continuation of our historic agreement, which brought greens into government for the first time in the UK."
The new first minister also becomes a member of the Privy Council of the United Kingdom, a formal body of advisers to the monarch.
Yousaf will be sworn in at the Court of Session, Scotland's senior civil court by Royal Warrant, on Wednesday.
Yousaf, who said his election is the culmination of a "journey of the generations from the Punjab to parliament, is expected to be invited to a private audience with the King Charles III in the coming days.
Prior to the parliamentary vote, Yousaf competed with intra-party rivals, beating rival Kate Forbes in a close contest with Ash Regan in third.
After the second round when Regan was eliminated, Yousaf won 52.1% of the vote to Forbes' 47.9% on Monday.
Former SNP leader Nicola Sturgeon said Yousaf will be an "outstanding leader" and that she "couldn't be prouder."
Yousaf's political rival, Scottish Labour leader Anas Sarwar, said regardless of politics, it is important to reflect on the diverse political landscape of the Scottish politics. It is a "significant moment" for Scotland, he said, and offered his "sincere congratulations" to Yousaf and his family.
2 months ago