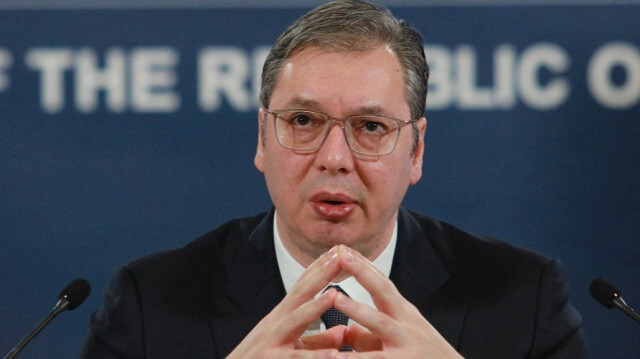 Serbian President Aleksandar Vucic
Serbian President Aleksandar Vucic Friday vowed not to sign EU-facilitated agreement with Kosovo, but said will discuss the normalization of relations.
Vucic's remarks came at a rally in the city of Sremska Mitrovica ahead of Saturday's summit meeting with Kosovar Prime Minister Albin Kurti in Ohrid, North Macedonia.
"We know our red lines at all times and will always defend our country ... Now, more than ever, we need wisdom, we need peace, not foolishness, not irresponsibility," he said.
The EU plan calls for the two countries to maintain good neighborly relations, and recognize each other's documents such as passports and license plates. Under the proposal, Serbia should not object to Kosovo's membership in international organizations such as the UN.
Kosovo declared its independence from Serbia in 2008, with most UN member states, recognizing it as a separate autonomous country. But Serbia continues to regard it as its territory.
EU foreign policy chief Josep Borrell said Thursday that it is time for Serbia and Kosovo to show courage and responsibility, and agree on the normalization of relations.
Vucic said he believes the West will put even more pressure on anyone who does not oppose Russian President Vladimir Putin.
"Peace is now a forbidden word in the world," he said, commenting on a New York Times report that the court in Hague plans to open two war crimes cases against Moscow tied to the Russia-Ukraine war.
Meanwhile, a large number of people in Belgrade rallied against the EU's proposal. Demonstrators had three demands: reject the European plan for the normalization of relations between Belgrade and Pristina, President Vucic should resign and new elections be called immediately. ​​​​​
15 days ago