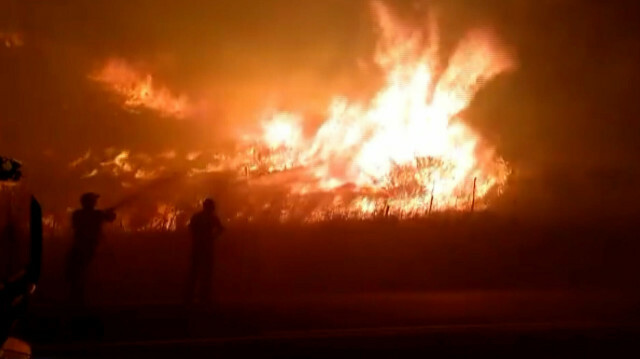 Spain battles fires after record-breaking heat wave
As a heat wave that brought the hottest temperature ever recorded to Spain comes to an end on Monday, firefighters are scrambling to contain dozens of forest fires across the country.
On Monday, Spain's state meteorological agency AEMET confirmed that the mercury hit 47.4C (117.3F) on Saturday in a town in the southern province of Cordoba. That is the highest temperature ever recorded by a modern weather station in AEMET's central network.
Much of the country also suffered from a suffocating heat wave that brought temperatures well above 40C (104F). By Tuesday, the heat is expected to drop to more seasonal temperatures.
But the heat wave and previously dry, hot summer has left Spain with tinderbox conditions.
Spain's largest fire so far this year is burning in the central region of Avila. So far, it has ravaged more than 12,000 hectares and forced around 1,000 residents to evacuate their homes.
On Monday, local officials said it was around 90% controlled.
Meanwhile, firefighters managed to get another major fire raging in the Valencia region under control on Monday. It began with a lightning strike and forced 300 people from their homes in the town of Azuebar this weekend.
Smaller forest fires have been reported around in the country in places such as Galicia, Cordoba, and Madrid. In the region of Castile La-Mancha, local officials said they had to deal with around 20 forest fires that started over the weekend.
At least 90% of Spain remains at "extreme risk" for forest fires, according to AEMET.
So far, the fires have not caused any known deaths or injuries.
2 years ago