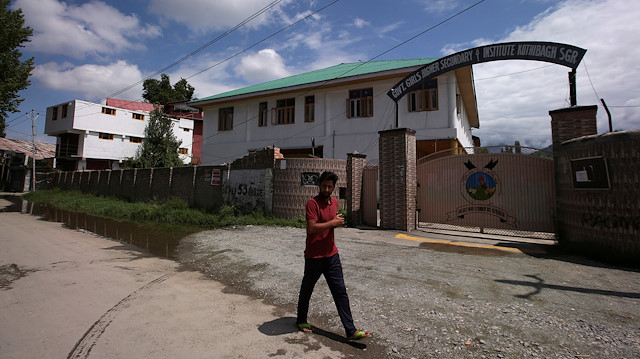 Students in Indian-administered Kashmir stayed away from school despite a government announcement to reopen educational facilities in the region following a weeks-long curfew.
Jammu and Kashmir, India's only Muslim-majority state, has been facing a clampdown since Aug. 5 when the Indian government scrapped its special status. Hundreds of people mostly political leaders have been detained or arrested by the authorities.
Kashmiri leaders and citizens fear that this new status will change the demography of the state, where some groups are fighting for independence or unification with neighboring Pakistan.
The announcement to reopen schools on Monday was met with skepticism by parents who remained concerned about the safety of their children. Due to thin attendance, most schools remained closed.
"The situation is not conducive. There is no way to connect to school authorities. What if god forbid, something happens during the day," said Abdul Rashid, a parent in the state capital Srinagar, referring to a partial communication blockade in the region.
"This was an attempt to show that things are normal in Kashmir," said Mohammed Bashaarat, a resident of Srinagar city. "No one sent their kids to school today, because it is not safe out there."
Officials from the Presentation Convent, a missionary school in Raj-Bagh area of Srinagar, said that none of the students attended school on Monday.
"Some of the staff had arrived, but no student came today," said a staff member from the school.
During the daily news briefing in Srinagar on Monday, the authorities admitted low attendance of students in schools.
"Attendance of students in schools remained thin," Mohammad Younis Malik, a Kashmir school education director, told reporters.