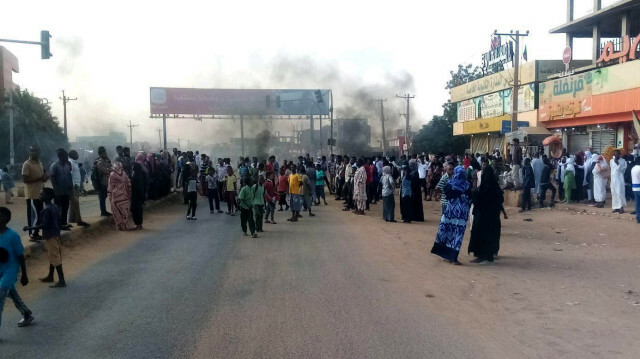 Sudanese Foreign Minister Maryam Al-Sadiq Al-Mahdi on Monday rejected any coup against the civilian government.

In televised statements, Al-Mahdi described the detention of Prime Minister Abdullah Hamdok as "dangerous" and "unacceptable", saying his whereabouts is still unknown.

Early Monday, officials in Khartoum said the Sudanese military arrested Hamdok and members of his government.

The Information Ministry said Hamdok was arrested by a military force after he refused to support what it described as a "coup".

There was no comment from the Sudanese military on the developments.

Al-Mahdi expressed confidence that Hamdok will not bow to the military's "dictates to dismiss the government."

"The partnership between civilians and the military faces a serious test," the top diplomat warned.

"There are no contacts between government ministers due to the interruption of communication and the closure of bridges," said Al-Mahdi, who confirmed reports that electricity and internet have been cut across the country.

Al-Mahdi said government ministers who were not detained will find a way to communicate and arrange matters in the coming hours, without giving further details.

"We warn everyone against spilling a single drop of the people's blood," she added.

Political sources who spoke to Anadolu Agency said the head of the ruling Sovereign Council, Abdel Fattah Al-Burhan, will make a statement later on Monday regarding the latest developments in the country.

The Sudanese Professionals Association (SPA) has earlier called for protests against what it described as a "military coup against the civilian government."

Political parties in the North African nation, including the Arab Socialist Ba'ath Party and Sudanese Communist Party, also called for civil disobedience in protest of the "coup."

Crowds of Sudanese took to the streets of the capital to condemn the "coup" and arrest of top government officials.

After a failed military coup last month, deep tensions between the military and the civilian administration erupted in Sudan.

On Friday, thousands of pro-military supporters organized a protest against Hamdok's transitional government in Khartoum, further escalating political tensions between the civilian administration and the army.

The protests came a day after thousands of pro-civilian government supporters held rallies across the country, while pro-military protesters had been holding a sit-in outside the presidential palace for the last seven days.

On Thursday night, Hamdok addressed the nation, praising pro-civilian protesters and pledging that his government would continue to support civilian rule and democratic development.

The country is currently administered by a Sovereign Council of military and civilian authorities, which oversees the transition period until elections slated for 2023, as part of a precarious power-sharing pact between the military and the Forces for Freedom and Change (FFC) coalition.
*Writing by Ibrahim Mukhtar in Ankara