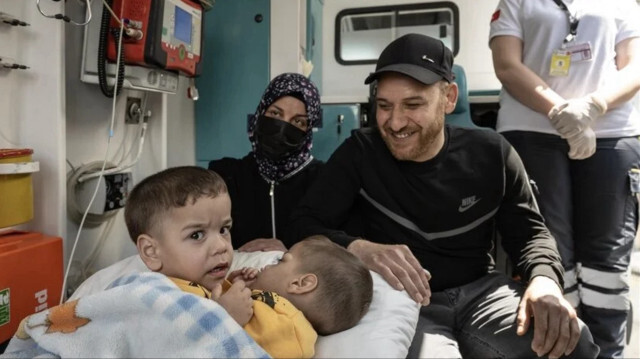 Syrian conjoined twins Ihsan and Bessem Salih have been airlifted from Türkiye to Saudi Arabia for surgery as part of Riyadh's humanitarian aid activities.
The transfer of two-and-a-half year of twins leaving in Türkiye's capital Ankara was facilitated with the instruction of King Salman bin Abdulaziz and Crown Prince Mohammed bin Salman of Saudi Arabia.
A Saudi private plane, carrying the twins and their parents, departed from Ankara Esenboga Airport.
- Saudi Arabia to perform 57th surgery to separate twins
Mohammed Yousef Alharbi, Saudi Arabia's charge d'Affaires in Ankara, told reporters at the airport that the twins will undergo a surgery to be separated after examinations.
"This will be the 57th operation in Saudi Arabia's program for separating conjoined twins. It was initiated in 1990. The operation will be successful and they will return safely, Inshaallah (God willing). This program is part of Saudi Arabia's humanitarian aid efforts," Alharbi said.
Saudi Arabia has carried out many successful surgeries in this field, Alharbi said. "Such surgeries take hours after necessary examinations. We have performed 56 successful surgeries so far."
About the family's transfer, he said: "Our embassy has carried out all the work for the transfer of the family. A special evacuation plane arrived from Saudi Arabia, and now the plane has departed with them."
- 'We do everything for their wellbeing'
Mahmud Salih, the father of the twins, said: "Allah has given us an opportunity for the conjoined twins to be separated in Saudi Arabia. The treatment will be at the King Salman Hospital in Saudi Arabia. I hope my children will recover. We trust in Allah."
He said that it is very difficult to take care of the twins when they fell sick.
"We do everything for their wellbeing," he added.
The father, who has been living in Türkiye for more than two years, said the Turkish people also supported them a lot in this process.
Lubabe Salih, the mother of the twins, also said Turkish people helped them during their stay in the country, adding that she hopes that her children will recover soon after the surgery.
9 days ago