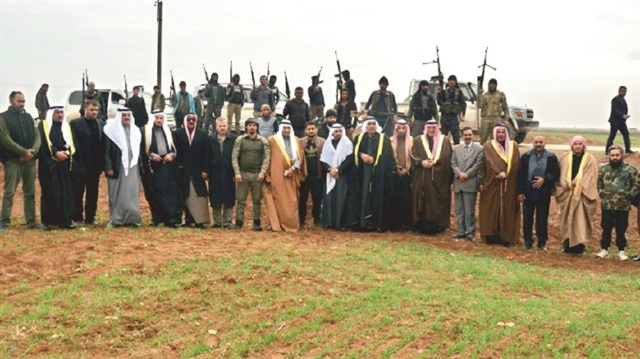 The Supreme Council of Syrian Tribes and Clans has vowed to fight against terror organizations and liberate regions under the terrorist Kurdistan Workers' Party (PKK)'s Syrian affiliate, the PYD, pledging Arab tribes' support for Turkey in any upcoming operation inside the country.
Speaking exclusively to Yeni Şafak, the head of Syria's Supreme Tribal Council and leader of the Shuayitat tribe Rafea Oqla al-Rajw said that the union formed during the group's last meeting in Turkey's Şanlıurfa back in March included 60 clans and 20 tribes, encompassing over 80 percent of those found in Syria.
Elected as head of the council at a meeting that took place during Dec. 10 -13 last year and attended by 354 tribal leaders, al-Rajw noted that the symposium was also attended by tribal heads from Saudi Arabia and Qatar, and it aimed at protecting Syria's territorial integrity and fighting against all terror organizations, including the PKK/PYD.
Country will not be abandoned to occupying forces
"The PKK/PYD are our most dangerous enemy. We will not abandon our country to any occupying forces such as the PKK/PYD, Daesh, Russia and the regime and its affiliates, the U.S. or Iranian militias. Even if the PKK says it fights against Daesh, they're two terror organizations that are one and the same," said al-Rajw.
Al-Rajw pointed that former regime official General Sukkar al-Moussa al-Hayyal, who was one of Daesh's emirs, currently lives in a palace in PKK-occupied regions, pointing that PKK terrorists seized the deeds, IDs and properties of those fleeing Syria.
"We will regain control over our lands even if we have to fight with forks and spoons. In order to begin work on restoring the infrastructure in these areas, we first have to eradicate the PYD occupation," stressed al-Rajw.
The PKK is listed as a terrorist organization by Turkey, the European Union and the United States. The PKK has been conducting armed violence in the southeastern part of Turkey since 1984. More than 40,000 people, mostly civilians, have been killed in the three-decade long conflict.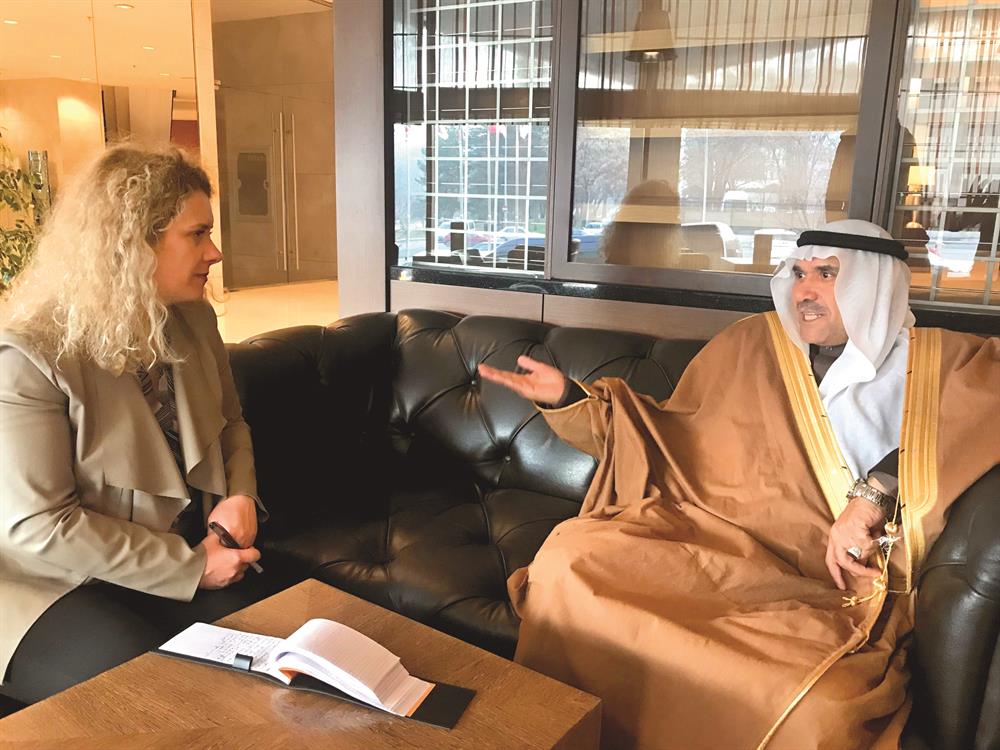 U.S. behind terror organizations
"We set off as tribes in coordination with Turkey. However, we don't receive funding from Turkey, we get that from the tribes in Kuwait and Qatar. Our blood and our path is the same as Turkey's. We can only play a role with Turkey by our side," said al-Rajw.
"We definitely have no contact or links on this issue with either the U.S. or the West. This is a completely false accusation. We're against the American project. They're behind terrorism. They summoned their gangs and terrorists from Mount Qandil. The U.S. is actually the party that creates and spreads terror," continued al-Rajw.
"We know very well that Europe is just like the U.S., they don't look out for the Syrian people's interests. The only fraternal and friendly country who has Syrians' best interest is Turkey," al-Rajw stressed.
We stand united with Turkey
"We back all operations carried out by Turkey in Syria. We stand united with Turkey. We'll even be at the forefront so that no harm will come to Turkey. We spoke before with the tribes located in Idlib and they expressed their desire for Turkey to intervene, noting that they are ready to put an end together to the PKK and Hayat Tahrir al-Sham terror, pledging all kinds of support. We also supported the Idlib and Euphrates Shield operations. Today there are a few problems in the Euphrates Shield regions. Some groups have different agendas," said al-Rajw in reference to any possible cross-border operation by Turkey.
"If it weren't for Turkey, there wouldn't be such a region and people wouldn't have been able to come back. We know that we're forever indebted to the Turkish people and we want to do whatever is necessary in this regard," concluded al-Rajw.
In the wide-ranging Euphrates Shield Operation launched in August 2016, the Free Syrian Army -- with the support of the Turkish army -- had cleared 2,000 square kilometers (772 square miles) of land along the Turkish-Syrian border of terrorist elements.