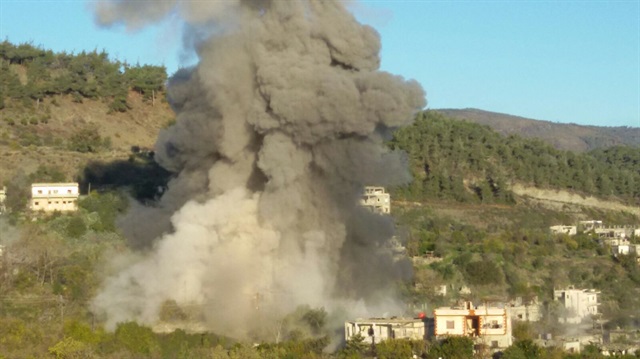 The regime troops of the Syrian President Bashar al-Assad, backed by Russian airstrikes, have seized the control of 70 of 73 villages in the Bayır-Bucak region in northwestern Latakia, a long-time stronghold of the regime.

The current information received from Syrian Turkmen Assembly Vice President Tarık Sulo Cevizci revealed that the Assad regime has the control of Acısu intersection which is 5 kilometers from Turkish border along with Zuweik, Ghinam and Burj al-Kassab hill.

"Only three villages remain under the control of the Turkmen brigades which are at the zero point to Turkey," Syrian Turkmen Assembly Vice President Cevizci said in an interview with Turkish daily newspaper Yeni Şafak.

"The regime troops pound the three villages 50 to 60 times per hour from the higher points they control. Also, the Russian regime is supported by Russian airstrikes," Cevizci said.

'They don't want to see Turkmens in Syrian project'

Syrian Turkmen Assembly VP also emphasize the lack of the antiaircraft and rockets which may help them to fight against the regime backed by Russia.

"The international powers don't want the Turkmens to have control of the region due to their close ties to Turkey, " said Syrian Turkmen Assembly Vice President Cevizci.

"They don't want Turkey to become powerful and don't want to see the Turkmens in their Syrian project; therefore they don't want Turkmens to be represented in the Geneva talks," said Cevizci.

Strict control on villages

The regime-held Turkmen villages have extremely limited access to power. The villagers are not allowed to have Internet access and phone communication. They are also prevented from leaving the villages.

If anyone attempts to flee from a village under the regime siege, he is immediately killed as soon as he is seen by the regime forces.

There is a strict control at the point of food entry to the villages.

Russia's support to Assad

Russia, which intervened in Syria's civil war on September 30 of last year, has been conducting airstrikes in Syria ever since, supporting the regime of Syrian President Bashar al-Assad under the pretext of fighting against DAESH.

Russia is harshly criticized by Turkey because of its attacks on Turkmen residential areas.

The war, which broke out after an uprising in 2011, has killed an estimated 250,000 people and displaced an estimated 11 million Syrians.