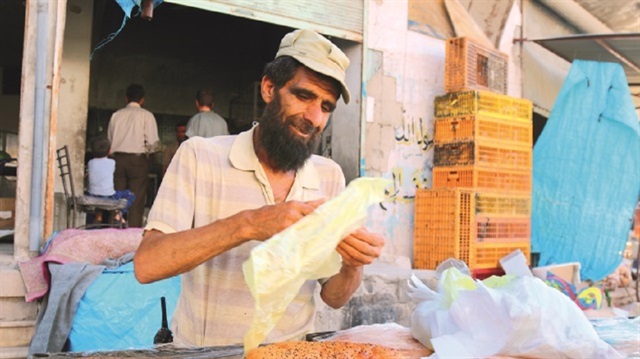 Preparations for Eid al-Fitr are in full swing in Syria's Idlib as locals frequent markets to buy clothes and sweets after a marked improvement in security in the region following the establishment of 12 observational posts by the Turkish Armed Forces (TAF).
Under the Astana agreement, Turkey will maintain 12 points from Idlib's north to south.
Life returns to normal
For Syrians living in the provincial capital, the main reason for the decrease in attacks this Ramadan was the establishment of observational posts by the Turkish Armed Forces (TAF) to monitor the ceasefire in accordance with the de-escalation zone agreement brokered in Astana.
Idlib resident Abdulmajeed al-Omar said that he never thought he would be able to return to the town he was forced to flee due to Assad regime attacks.
"Thanks to the observation posts established by the Turkish Armed Forces (TAF), life has once again returned to normal. This Ramadan is safer than previous years. People are once again leading normal lives. You can tell from how vibrant the market is. People hit the markets for Eid."
Better than last year
Twenty-six-year-old Ahmad Dughem, from the town of Jarjanaz, noted that thanks to the TAF, the situation has greatly improved over the past few years.
"We're preparing for Eid. We're shopping for clothes and sweets," said Dughem.
Another Jarjanaz local echoed Dughem's comments and pointed to the improved security situation in comparison to previous years.
"Thanks to the TAF, markets are doing much better this year in comparison to last year. Every Ramadan, Assad's fighter jets used to carry out airstrikes and massacres. However, this year, the airstrikes are not as intense, and markets are much more busy and vibrant."
Ahmad Alloush, the manager of the Shuhadaa Camp, however criticized the decrease in aid for refugees this year.
"Camps are safe, yet the situation this Eid is worse than previous years. Aid has decreased and prices were hiked. Families I know could not even afford to buy second-hand clothes," said Alloush.
Idlib, located in northwestern Syria on the Turkish border, has faced intense attacks by the Bashar al-Assad regime after a vicious civil war broke out in 2011.
Since March 2015, Idlib is no longer under control of the Assad regime and has been overrun by opposition groups.