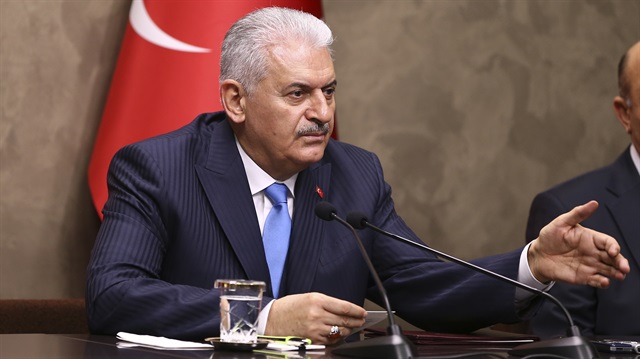 Prime Minister Binali Yıldırım
Turkish Prime Minister Binali Yıldırım slammed joint efforts by Washington and the Kurdistan Workers' Party (PKK)'s Syrian branch, the YPG, to form a political party in Syria before leaving for an official visit to Bosnia and Herzegovina on Thursday.
"We have witnessed a constant location and name change. They use a different name in Syria, and another one in Iraq, but when you remove their mask it becomes clear exactly who they are," Yıldırım said, referring to a new political party dubbed "Syria's Future" which has been launched as part of a U.S. initiative in parts of northern Syria occupied by the YPG/PKK terrorist group.
"We know them well. They may be able to fool some of our allies by changing their name, but Turkey will recognize them. The United States, which tried to hide the PKK with three-letter signs in order to form a terror corridor to siege Turkey from the south is now making these villains set up a party in Syria," Yıldırım added.
U.S. officials helped establish the "Syria's Future" party on Tuesday at a congress held in al-Hasakah. Washington discussed the party's launch with YPG/PKK terrorists.
"The structure named Syria's Future which was brought to life at a congress yesterday is formed entirely of PKK terrorists," Yıldırım said.
At Tuesday's congress, Ibrahim al-Qaftan was made chairman of the new party. Al-Qaftan had been a member of Syria's Ba'ath Party in Manbij before the Syria conflict erupted in 2011, and assumed the presidency of Manbij's local council after the district was occupied by the YPG/PKK terrorist group.
Members of the party's executive board appear to have been drawn from the ranks of the YPG/PKK terrorist group.
The PKK is listed as a terrorist organization by Turkey, the European Union and the United States. The PKK has been conducting armed violence in the southeastern part of Turkey since 1984. More than 40,000 people, mostly civilians, have been killed in the three-decade long conflict.
6 yıl önce