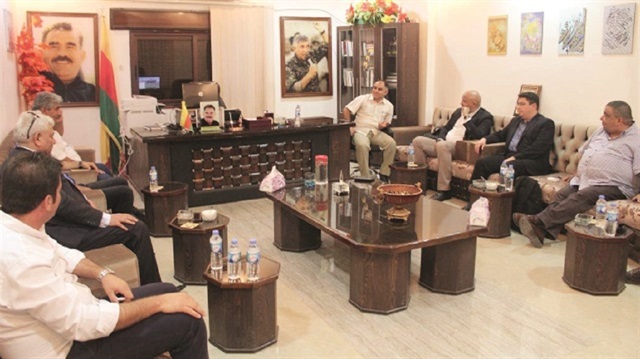 The 'Tayyar el Ghad Suriya Movement' (SDMK) under the leadership of Ahmed Carba, has had its activities ended in Turkey.
A meeting was held on June 10 for the future of Syrian oil on the premise of the intelligence of Saudi Arabia and the US in Syria's northeastern city of Qamishli, which borders with Turkey.
One of the US officers who visited terrorist organizations in the Sinjar-Karachok region after Turkey's anti-terror operation in northern Syria and spokesman for the Global Coalition to Counter Daesh Colonel John Dorrian attended the meeting.
Representatives from Egypt, the United Arab Emirates (UAE) and Saudi Arabia, as well as some tribal leaders from Syria and senior Democratic Union Party (PYD) members attended the meeting.
The delegation gathered for the purpose of determining a common strategy for the future of Syrian oil, and decided to act jointly after Daesh.
Former President of the National Coalition of the Syrian Opposition and Revolutionary Forces, Ahmed Carba, determined the tribal and group representatives from Syria and Mohammed Dahlan determined which foreign representatives would attend the meeting.
Representatives agreed on a pipeline route
Radical decisions were made regarding the extraction, processing and marketing of the underground wealth of the Haseke, Raqqah and Deir ez Zor regions, which hold 95 percent of Syrian oil and natural gas' potential.
During the meeting, it was agreed that a pipeline would extend from the Humus desert to Tenef, Jordan and then to Israel to market the oil to Europe.
US and British oil representatives were also present at the talks. US officials said that with the new supply line, the parties will receive the necessary share from the Syrian oil and that Iran and Russia will break down their accounts on Syrian oil with this method.
Participation from Turkey
On behalf of the 'Tayyar el Ghad Suriya Movement' (SDMK) under the leadership of Ahmed Carba, whose activities have been ended in Turkey, Ismail Bubi, a former senior figure of the organization, and Kasım Hatip from Egypt were also among those who attended the meeting.
Using the Istanbul-Erbil line, the participants going to northern Iraq then moved to the Haseke-Qamishli region of Semalka Border Gate.
Former SMDK member Ubeyde Nahhas, who resides in Istanbul, also took part in the negotiations on the partition and sale of Syrian oil.
PKK to get a share of Syrian oil
It was decided that the Syrian offshoot of the Kurdistan Worker's Party (PKK), the PYD, would receive a share of oil.
US and Saudi officials expressed respect for the struggle of the PYD and promised that the PYD would get the necessary share from the petrol after.
More than 30 tribal leaders, including İnize, Şeidat and Ageydat, were present at the meeting. In addition to this, armed groups such as the Ceyş el Suriy, Kuvveti Ahmed Abdo, Tehalüf el Aşari and Ahrar Şarkiwere also represented at the meeting.
il y a 6 ans