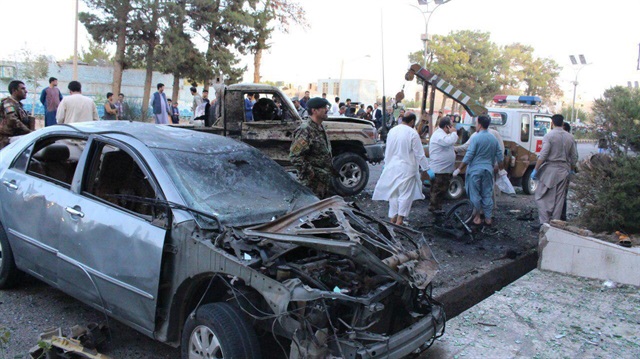 Armed Taliban militants stormed a city in east-central Afghanistan overnight Friday, setting fire to a number of checkpoints after engaging in deadly clashes with government forces, officials and local media confirmed.
Arif Noori, spokesman for the governor of Ghazni province, told Anadolu Agency that up to 30 rebels were killed and 10 security forces injured in the clashes that began around midnight Thursday (1930GMT).
"The Afghan Air Force has also been called in to target the advancing Taliban rebels," he said, adding that efforts were being made to avoid civilian casualties in air and ground operations.
Located some 150 kilometers from the capital Kabul, the city of Ghazni is situated on the main highway connecting it with the country's southern and western provinces.
Local Azadi Radio reported that provincial officials have long warned security higher-ups of an imminent assault on the city.
Claiming credit for the assaults, Zabihullah Mujahed, the Taliban spokesman, claimed in a tweet that up to 25 checkpoints were overrun, "scores" of government soldiers killed, and an "enemy helicopter" shot down during the ongoing clashes.