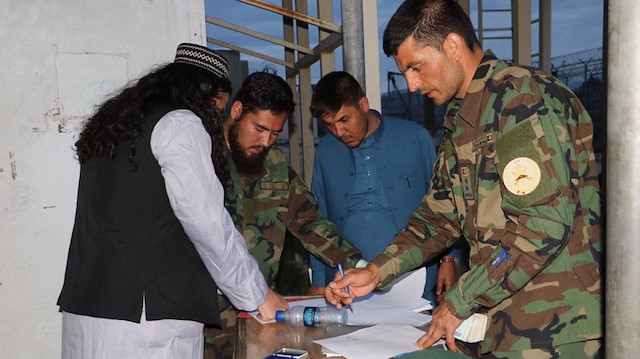 The Taliban in Afghanistan set free at least 40 captive security forces personnel amid escalating violence in the war-ravaged country, the group said on Thursday.
Suhail Shaheen, the Taliban's Qatar office spokesman, announced on Twitter the captives were released in the afternoon in northern Kunduz province bordering Tajikistan.
"The Islamic Emirate [Taliban] is trying to speed up prisoners' release process in order to save lives of the prisoners from the risk of the coronavirus desease," Shaheen tweeted.
This comes as the Afghan government and the Taliban exchange allegations over the surge in violence.
Javed Faisal, spokesman for the National Security Council, said the insurgents have "failed" to reduce violence, protect civilians and work for peace after the US-Taliban deal of February 29 in Qatar.
"They (Taliban) have killed 337, wounded 452 and abducted 164 civilians between Feb. 29 and April 19. Taliban must match their actions with their claims about peace," Faisal told Anadolu Agency.
Countering the allegations, Zabihullah Mujahid, the Taliban's spokesman, said in a social media post: "It is the Kabul administration's soldiers and their foreign supporters who are killing people, bombing houses and launching rockets," he claimed.
Earlier this week, the UN mission in Afghanistan blamed the Taliban and other insurgent groups for 52% of 533 civilians, including over 150 children, killed in first quarter of 2020.
The rejuvenated yet fragile Afghan peace process continues to face deadlock as differences persist over the proposed exchange of prisoners, launch of intra-Afghan talks and subsequent cease-fire.
According to official sources, there are 12,000-15,000 inmates in Afghanistan, including militants from Pakistan, Central Asia and Gulf countries, in different prisons across the country.
The Taliban have demanded the release of 5,000 of their militants in return for the release of 1,000 captives, including Afghan government officials and security personnel.
The Afghan government, however, insists on releasing them in phases alongside intra-Afghan talks and a cease-fire in place.