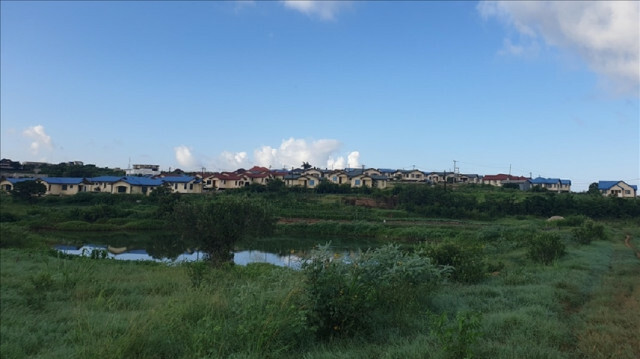 As World Architecture and World Habitat days are marked on Monday, Mabwepande Green Village on the outskirts of Dar es Salaam is promoting clean technologies, including solar and biogas to meet the growing energy needs of its population while protecting the environment.
As the world's population increases, the number of people living in cities is expected to rise from the current 55% to a whopping 68% by 2050, according to the UN.
With a population of 6 million, the smoke-belching port city of Dar es Salaam, Africa's fifth-largest city, which produces 40% of the country's GDP, is at the heart of an environmental storm.
The city is vulnerable to the effects of climate change, including flooding, sea-level rise, coastal erosion and water scarcity.
While emerging opulent skyscrapers that offer unparalleled panoramas are the icons of the city's changing face, they also highlight a wide economic gap among residents.
Perched on a hill and engulfed by an array of wetlands and green vistas north of Dar es Salaam, the idyllic village, touted as a model of sustainable future is harnessing green technologies including solar, wind and biogas and other modern amenities to reduce its carbon footprint.
As a warm breeze blows from the Indian Ocean, Reeves Ngalemwa, the chairman of Mabwepande Green Village Association showed up on the balcony of a home with flower-filled pots to convey a message to his community about plans for their green village.
"Green homes are built with people in mind. We want to maximise the use of natural energy and decrease the use of nonrenewable energy thus reducing the carbon footprint," said Ngalemwa.
"Sustainability is not limited to those who have money nor does it require elaborate technology. It does, however, need education and expertise to facilitate the energy efficiency efforts," he said.
Conceived and designed by the Watumishi Housing Company (WHC), a government real estate agency with the vision of providing decent accommodation in line with the country's 2025 development vision, the Mabwepande Green Village with its cluster of 65 housing units is on the verge of breaking ground for sustainability.
Watumishi Housing Company is known for its solid track record of designing and building housing estates to cope with environmental challenges and reduce the ecological footprint.
Looking at Mabwepande Green Village from this vantage point, it offers a rare glimpse of a calm neighborhood situated in a lush natural landscape swamped with green vistas and a murky stream residents use for watering vegetables.
- Inclusive cities
The initiative is in line with Sustainable Development Goal (SDG) 11, which calls for making cities and human settlements inclusive, to ensure effective use of resources for making production patterns safe, resilient and sustainable and curbing the worsening effects of climate change.
According to Ngalemwa, the projects are estimated to cost $185,000 entail self-sufficient clean energy including solar and biogas, and manage wastewater in a closed-loop system that also captures waste to be recycled for power and fertilizer.
To cope with the environmental challenges, Mabwepande Green Village plans to use the urban nexus approach to exploit water and energy resources efficiently and in an integrated manner.
Pantaleon Shoki, Secretary-General of the Mabwepande Green Village Association said the group is seeking support from the German Corporation for International Cooperation (GIZ) and ICLEI – a global network of more than 1,750 local and regional governments committed to sustainable urban development, and other donors to harness sustainable technologies for creating environmentally-friendly features, including a large solar farm and an on-site water reservoir that allows residents to collect and reuse rainwater from rooftops.
"We have what it takes to be a model for others," he said.
The village wants to achieve the status of high quality, sustainable estates with energy saving features, rainwater harvesting infrastructure with a reservoir tank with the capacity to store 100,000 liters (2,600 gallons) and solar shading canopies which support biodiversity.
Speaking with Anadolu Agency, Ngalemwa said the community is keen to use participatory approaches to integrate ecological, economic, social and cultural dimensions of sustainability to preserve the natural environment.
He said his group is due to install a biogas digester with a capacity to recycle sewage slurry and organic wastes to produce cooking gas.
The association is also planning to build sports facilities and an entertainment hub with playgrounds, a minibar and business complex with supermarkets and a tree planting initiative.
"Tree planting is one of the initiatives we promote," he said.