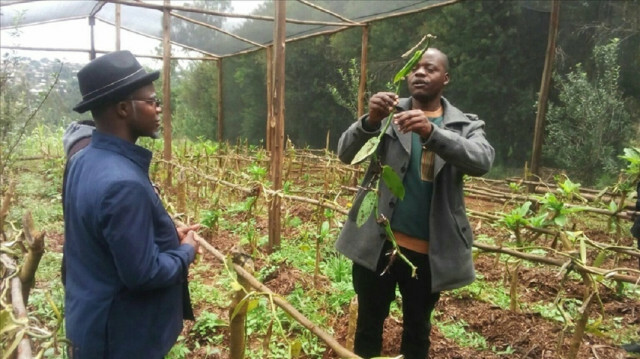 Smallholder farmers in Tanzania are earning huge profits from the thriving global vanilla market, offsetting losses they have frequently suffered due to poor yields from growing traditional cash crops, notably coffee.
With the price of vanilla hitting record high, a growing number of farmers in the East African country are foregoing coffee and other cash crops in favor of vanilla cultivation.
Vanilla is a flavoring ingredient frequently utilized in the food industry. Its extracts are used in beverages and bakery products all over the world, including ice cream, cakes and yogurt.
From Kilimanjaro in the north to Kagera in the northwest to Njombe in the southern highlands, a growing number of farmers are switching to vanilla cultivation, with the hope to reap big profits.
According to Tanzania's Agriculture Ministry, vanilla production has increased significantly in the last five years, rising from 229.8 tons per year in 2015 to 1,949 tons in 2020.
Deputy Agriculture Minister Hussein Bashe said in April that the government is determined to promote vanilla farming by addressing various challenges the farmers face, including access to quality seeds and finding reliable markets that benefit smallholders.
- Poverty alleviation
Standing on the edge of her two-hectare farm, Clementina Buberwa recalls how vanilla has pulled her out of poverty.
"It's a highly profitable crop that requires hard work and commitment if you want to enjoy its benefits," she told Anadolu Agency.
The 51-year-old grandmother from Isingiro village in Kyerwa district switched to vanilla in 2014 after constantly experiencing low coffee harvests as the crop became more susceptible to weather vagaries and was often affected by wilt disease.
However, vanilla has emerged as a game-changer for her, who earned Tanzanian shillings 23.5 million ($5,217) after selling her cured vanilla beans this year.
Each orchid vine, which takes three to four years to bear fruits, can produce about 7-15 kilograms of green vanilla beans that fetch higher prices globally, she said.
- Hand-pollination
Buberwa would spend hours up on the ladders in November hand-pollinating countless vanilla blooms with toothpicks before they closed.
"I've learned to pollinate them with my own hands because if I don't, I won't get any beans," she told Anadolu Agency.
She has garnered higher harvests due to the area's favorable climate, which includes annual rainfall ranging from 1,200mm to 1,500mm and cold temperatures averaging 22°-25°C (about 71.6 to 77 Fahrenheit).
She has planted several vanilla vines in her banana plantation, and spends 14 hours a day watching the harvest.
She handpicks the mature seedpods, boils them to prevent sprouting, and then sun-dries them until they are dark, slender, and leathery.
"When you send cured vanilla in the market, it fetches a high price. The only problem is that the middlemen sometimes offer lower prices than the market value of the crop," she said.
Daudi Mbogo, a researcher at the Tanzania Agricultural Research Institute, said vanilla farmers in Tanzania have a better chance of benefiting economically.
"Vanilla is a high-value crop, although its market can be volatile at times, it always fetches a high price," he explained.
Vanilla, which grows well in shade, can be intercropped with banana and coffee, Mbogo added.
Depending on the market, a kilo of local vanilla might sell up to Tanzanian shillings 850,000 ($369), he said.
"I don't know why many Tanzanians shouldn't seize this opportunity to earn a huge income," he told Anadolu Agency.
Agnesta Mnyifuna, who lives in Kinyagalila village in the country's southern Njombe region, has a four-hectare farm where she grows maize, beans, coffee, and avocado.
However, she has been harvesting 15-20 kilograms of vanilla pods every season since she began to cultivate vanilla.
According to Mnyifuna, vanilla is by far the most lucrative crop. Its quality beans fetch $250-$300 per kilogram. Its smaller pods sell for $100 per kilogram. Mnyifuna earned about Tanzanian shillings 9.2 million (approximately $4,000) from the vanilla she sold in 2019.
"We need more government supervision when selling the crop to cooperative unions so that the smallholder farmers can enjoy the fruits of their labor," she said.