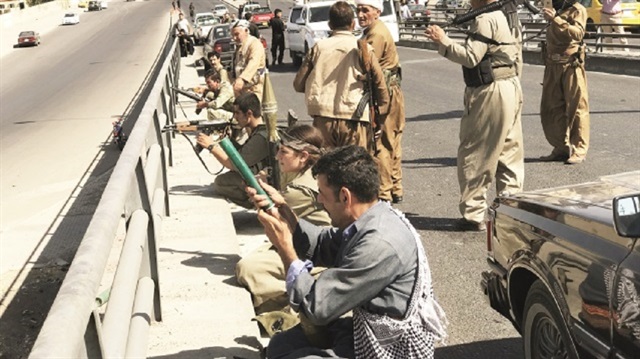 The U.S., taking advantage of the rising tensions in Syria's Idlib and Iraq's struggle to form a government, is now in preparation for a Kirkuk-centered bloody scenario in the region in alliance with the Peshmerga and Kurdistan Workers' Party (PKK) terrorists.
With the aim of delivering Turkmen towns to the Peshmerga, PKK terrorists are being deployed to the region.
Speaking exclusively to Yeni Şafak daily, Iraqi Turkmen Front (ITF) officer Mehmet Seman Ağaoğlu divulged details about the Washington administration's recent occupational plans in cooperation with the Peshmerga in Iraq, while conflicts remain after the May 12 elections and wide-spread protests that have resulted in death and violence.
"Barzani and Talabani are planning a bloody return to Kirkuk from which they were forced to withdraw on October 16," he said.
A military initiative launched by Baghdad following the illegitimate Sept. 25 independence referendum enabled the swift recapture of the oil-rich city of Kirkuk as well as several other parts of Iraq that were disputed between Baghdad and the Kurdistan Regional Government (KRG).
The KRG obtained half of the oil they exported from the Bai Hassan and Havana oil fields northwest of Kirkuk.
Iraqi forces took control of these oilfields northwest, after Kurdish Peshmerga fighters had retreated.
The Barzani and Talabani administrations dispatched PKK terrorists to Kirkuk, Mosul, Hanakin and surrounding towns.
Since July 9, Iraq's Shia-majority central and southern provinces -- especially Basra -- have been rocked by protests to demand better public services, more job opportunities and an end of government corruption.
Turkmen centers surrounded by terrorists
PKK terrorists were especially deployed near to the Turkmen regions where the Turkmen Party and association centers are located.
"PKK terrorists are being sent to the regions, notably to the Iraq Turkmen Front's buildings, that are near to the headquarters of Turkmeneli TV and Turkmen Party.
"We have identified more than 20 houses and work offices that are used by PKK terrorists as observations posts," he said.
"A ferocious massacre similar to the one conducted on July 14, 1959 is currently being prepared and the PKK will play active role in this process," he added.
At least 30 Turkmens were killed, and over 100 injured, in what is today known as the three-day long "Kirkuk Massacre," after a rally to celebrate the first anniversary of the 1958 revolution deteriorated.