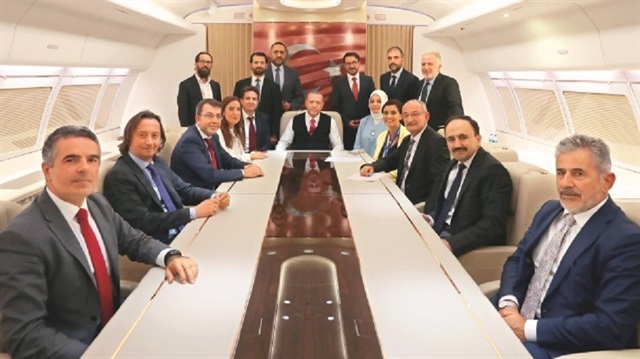 Turkey strives for the formation of a Syrian constitution and elections in which Syrians both in the country and abroad can vote, President Recep Tayyip Erdoğan said on his return flight from an official visit to Azerbaijan.
"Everyone is allegedly concerned about Syria's territorial integrity. But when it comes to putting this concern into practice, everyone has conducted parceling. One country has 22 bases, and another has five. Bases have been established. Turkey has no such interest. We are not engrossed in parcelization or whatnot. We seek firstly the preparation of a constitution, and secondly for elections to be held with the participation of all Syrians both in the country and abroad. Come, let's all abandon Syria together. There can be no other solution," Erdoğan said.
"They say the regime called them [U.S.] to Syria, and we say the locals called us. That is the difference between us. We do not recognize the regime or the Syrian government, they do. We recognize the Syrian public. Nobody wanders around Idlib with Russian, U.S., German or French flags. They walk around with Turkish flags. This is of significance. We couldn't leave these victims, these oppressed people alone," he added.
Erdoğan-Putin meeting
Erdoğan will pay a one-day working visit to Russia's coastal city of Sochi on Monday. Erdoğan will hold a bilateral meeting with Russian President Vladimir Putin.
"We will especially discuss the Syria matter in our bilateral talks with Mr. Putin. We will evaluate the latest situation in Idlib once again. If the situation in Idlib continues like this, there may be grave results. Idlib has been calm for the last two to three days. It appears like our efforts have yielded results, however we are still not satisfied," Erdoğan said.
The Syrian regime has recently announced plans to launch a major military offensive in the area, long controlled by various armed opposition groups.
The UN warned that such an offensive would lead to the "worst humanitarian catastrophe in the 21st century."
Possible humanitarian corridors in Idlib
The Turkish president said he would discuss the creation of humanitarian corridors in Syria's Idlib to prevent civilian casualties, which was mentioned by Russian Foreign Minister Sergey Lavrov on Friday, with Putin during his Sochi visit.
"We will have the opportunity to discuss these matters with Putin in Sochi. We fulfill our responsibilities in Syria. What we did in Afrin and Jarabulus is evident. We struggle against all terror organizations. Likewise, we are fighting against terror in Idlib. We have 12 observation points in Idlib, Russia has 10 and Iran has a few. It is true that we are strengthening our observation points in Idlib. We cannot have a weakness in this area, so we will continue to strengthen. Turkey is the most distressed country when it comes to this matter. The people who leave [Idlib] will come to Turkey. We must take our own precautions," Erdoğan said
Ankara has established a dozen military observation posts around Idlib, which it has reinforced with troops and equipment in recent weeks.
Located near the Turkish border, Idlib province is home to more than 3 million Syrians, many of whom fled from other cities following attacks by regime forces.
Turkey-U.S. ties
"Our stance is very clear, and it will continue to be so. We made our offer to the U.S. at the beginning. If you're going to clear Raqqa of terror organizations and Daesh, then let's do this together. We're putting two brigades on duty. We are working alongside the Free Syrian Army (FSA), just give us logistic and air support and we will clear this place. I said this to Trump myself, and later during meetings with delegations. They said they would work with the YPG-PYD. So we said it was their choice, and each to his own. Later, we made our move. We cleared Afrin. We didn't obtain permission from anyone. There is oppression there, and we will stand up against that oppression," Erdoğan said.
The PYD and its military YPG wing are Syrian branches of the PKK, which has waged war against Turkey for more than 30 years. The U.S. has largely ignored the PYD/YPG links to the PKK, which the U.S., EU, and Turkey list as a terrorist group.
Turkey to bolster military presence in Northern Cyprus
"We don't have a base problem in Northern Cyprus. It's only a matter of minutes for us to reach Northern Cyprus and the Eastern Mediterranean from Turkey. But Greece is not as close. There is the psychological dimension of that matter. In that sense, we may establish a base if we need it. Our presence there is important. We will not reduce our military presence there. We will increase our military presence, not decrease it. They do not listen. If they did, we would have sorted this out with Kofi Annan. What was the promise that was made during the referendum, and what was done? We said yes and they said no. They were accepted into the EU and we were not. From now on, we will do as we see fit there," Erdoğan said.
Cyprus has been divided since 1974, when a Greek Cypriot coup was followed by violence against the island's Turks, and Ankara's intervention as a guarantor power.
The latest attempt to reunify the long-divided Mediterranean island ended in failure after two years of negotiations in 2017. Greek Cypriot voters also rejected the Annan peace plan in a 2004 referendum that was approved by Turkish Cypriot voters.
Upcoming presidential visit to Germany could positively impact ties
Erdoğan will pay a state visit to Germany in late September, the first official visit since 2014.
"I will meet with the chancellor [Angela Merkel] twice. We will evaluate our political, military, economic and trade ties, as well as the fight against terror. Germany appointed a special representative to complete preliminary work, and I sent my special representative Mr. İbrahim Kalın to Germany. Germany has taken this very seriously, as have we. Hopefully this type of a meeting with Germany after an extended period of time will affect the upcoming period very positively. I am hopeful. I sensed this from our telephone meetings with the chancellor too. Treasury and Finance Minister Berat Albayrak will hold preliminary meetings. We will also have the opportunity to evaluate the activities of the Fetullah Terrorist Organization (FETÖ) and the Kurdistan Workers' Party (PKK) in Germany," Erdoğan said.
"During the visit, we will also meet with big German companies. We will meet with companies with investments in Turkey and those who may reinvest in Turkey. Our Religious Affairs Directorate built a beautiful mosque in Cologne. We will open the mosque during this visit. I will deliver an address there," he added.