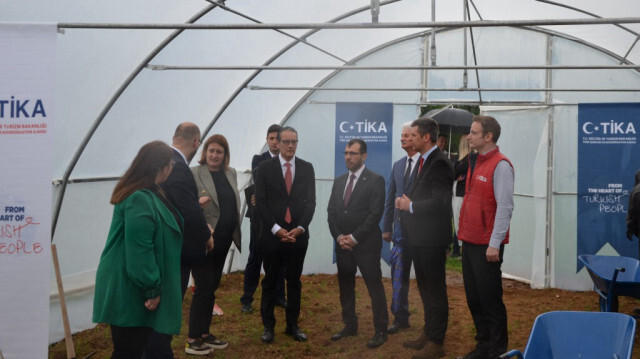 TİKA builds greenhouse to promote occupational therapy in Montenegro
Turkish Cooperation and Coordination Agency (TİKA) has installed a greenhouse in the Ljubović Educational Center located in Montenegro's capital Podgorica, to be used for occupational therapy activities. The greenhouse, covering an area of 100 square meters, will allow agricultural activities to be carried out as part of the occupational therapy program at the center.
TİKA has also provided various agricultural tools such as shovels, rakes, hoes, wheelbarrows, uniforms, boots, gloves, etc. to support agricultural activities.
The delivery ceremony of the greenhouse was attended by Montenegrin Minister of Labor and Social Security, Admir Adrović, Turkish Ambassador to Montenegro, Barış Kalkavan, Director of Ljubović Educational Center, Nina Delević, and TİKA Montenegro Coordinator, Abdurrahman S. Toprak.
During the ceremony, Minister Adrović expressed his appreciation for the projects carried out by TİKA in Montenegro.
Ambassador Kalkavan emphasized that investing in children and young people is actually an investment in the future, and Turkey is ready to cooperate with the Montenegrin people in every field they need, thanks to TİKA.
Ambassador Kalkavan thanked everyone involved in the project.
The Ljubović Educational Center, which meets the protection and shelter needs of children with behavioral problems throughout the country, stands out as the only public institution implementing educational programs developed based on individually identified needs.
4 months ago