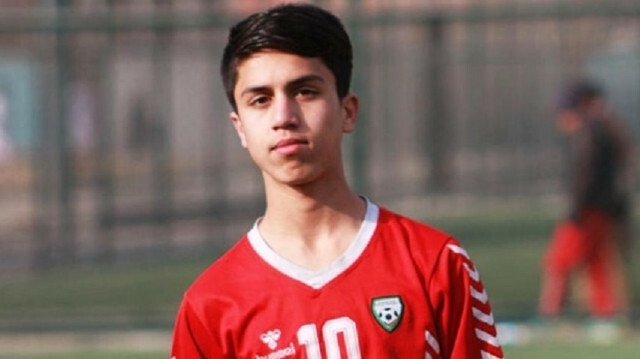 Zaki Anwari, 19, who played for Afghanistan's national youth football team, idolized both Argentinian star Lionel Messi and Brazil's renowned Neymar.
A day after the Taliban took control of the Afghan capital Kabul on Aug. 15, he left for the airport at 10 a.m. local time. Soon his parents learned that the young footballer had died after allegedly trying to stow away on a US military plane leaving Kabul airport.
A video circulated on social media and later broadcast on mainstream channels showed people hanging from a moving US Air Force plane, with some being crushed under its tires and others falling from the air. The mishap claimed the lives of at least five people.
Speaking to Anadolu Agency, Zaki's father, Haji Mohammad Ghos Anwari, 75, said that his son was oblivious to the chaotic situation in Kabul, referring to the Taliban seizing control of the capital. The fleeing of then-President Ashraf Ghani and many of his Cabinet members added to the chaos.
"He was the youngest of seven siblings," he said, wiping away tears as he told Anadolu Agency about the tragic incident at his residence in Kabul's Taimani neighborhood.
Zaki had started playing football when he was 10 years old and kept at it, because he believed sport was a healthy activity.
The day of the Taliban takeover he left the house and made it to the Hamid Karzai International Airport's runway, said the father. Before leaving, he sought his mother's blessings and told her that he was on his way to the US.
"This was his last interaction with the family," said Ghos.
Unable to elaborate further, he described his son as obedient and well-mannered.
Zaki's elder brother Nasir Anwari accused the plane's pilot of not dealing with the chaotic situation properly.
"The pilot knew that several people were running with the plane, some clinging to tires and others clutching firmly to various edges of the aircraft," he said.
"It was an aircraft, not a car, the pilot should have been aware of the situation before taking off," he added angrily.
- Lured by greener pastures
Like many Afghans, the young footballer had heard through social media that the US and European nations were accepting Afghan refugees, his elder brother said.
He quoted Zaki telling them: "This is the last chance and goodbye from my side."
Zaki is believed to have clung to the plane from outside. Two people were seen falling to their deaths from the plane after it took off, according to the harrowing video seen on social media.
Nasir said he did not know how his brother died. Someone said he was knocked over by an airplane tire, while others said he fell from the air as the plane took off.
Nasir said Zaki had idolized Messi and Neymar, and his favorite team was Barcelona.
He was a member of the school team and also competed at a national level. Nasir said his brother had won numerous meddles in the game.
Zaki used to go to a nearby playground regularly, and his family encouraged him to pursue his passion for sports, said Nasir.
He added that after school, his brother used to help him out at his cellphone shop.