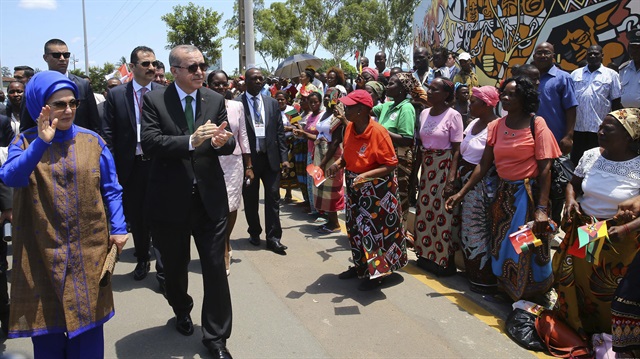 Turkey's relations with Africa date back to Ottoman era. However, due to the Cold War, Turkey's foreign policy was subject to the bipolar system in the second half of the 20th century. It was the disappearance of the two opposition blocs that led Turkey to establish relations with the Balkans that emerged from the Soviet rubble—and Africa.
In 1998, Ankara declared the "Africa Action Plan" program aimed at forming effective ties with African countries by increasing Turkey's diplomatic representations in the continent, improving official representation cadres of some sub-Saharan African embassies, increasing political communications and consultations in global organizations, enhancing business and economic cooperation, and promoting humanitarian aid to Africa. However, the Turkish government fell short of realizing this ambitious plan, which was mainly due to the earthquake in 1999 and the economic crises in 2000/2001.
Although the "Africa Action Plan" was the first step toward improving relations with Africa, the most radical steps were taken after the Justice and Development (AK) Party, Turkey's ruling party, came to power in 2002. The first concrete steps taken by the AK Party government include the adoption of the "Strategy for enhancing the economic and commercial relations with Africa" in 2003 and declaring 2005 as the "Year of Africa," which formulate the "Opening to Africa" policy.
Strategic partnership
Following these initiatives, Turkey-Africa relations turned into partnership, encompassing political, economic, and humanitarian and development cooperation. The Turkey-Africa partnership effectively began in 2008 following two crucial events that year: the organization of the 1st Turkey-Africa Cooperation summit in Istanbul and declaration of Turkey as a "Strategic Partner" by the African Union summit in held in Ethiopia's Addis Ababa which granted Turkey an observer status in the organization.
This year, both Africa and Turkey celebrate the 10th anniversary of this partnership. The second Turkey-Africa Cooperation Forum is scheduled to commence in October 2018 in Istanbul. The Third Turkey-Africa summit will also take place next year and both parties are determined to ensure the success of the summit.
The trade volume between African countries and Turkey currently exceeds $20 billion annually—representing nearly a five-fold rise compared to 2003. In February 2018, the first Turkey-Economic Community of West Africa States (ECOWAS) Economic and Business Forum was organized with the purpose of institutionalizing economic and trade relations between Turkey and the ECOWAS community.
Connecting Turkey and Africa
A critical dimension of the blossoming ties between Turkey and Africa is Turkey's national carrier—Turkish Airlines. The flag carrier operates daily flight services to more destinations in Africa than any other airline.
Turkish Airlines currently flies to 52 destinations in 34 different African countries and continues to add more every day. Its latest addition was Free Town, Sierra Leone's largest and capital city. In June 2018, it is expected to begin flights to the Comoros Islands, located off the southeast coast of Africa. The airline connects Turkey to the African continent and helps Africans reach Turkey and the rest of the world.
Peace and security
Turkey is actively contributing to peace and security initiatives in Africa, which was recently affected by terrorism incidents, violent revolutions as well as civil wars. In Somalia, Ankara maintains a military facility where it trains Somali soldiers to help them fight al-Shabab insurgency and restore peace to the country. It also participates in the multi-national anti-piracy and counter-terrorism action in the Gulf of Aden off the coast of Somalia. In the Sahel, Turkey is contributing to the efforts to deter and defeat terrorist groups in the region, namely Al Qaeda in the Islamic Maghreb (AQIM). At a recent fund-raising conference in Brussels, Turkey donated 4.1 million euros ($5 million) to support the operations of the G-5 Sahel Security Force, a fledging five nation military force— Mali, Niger, Chad, Burkina Faso and Mauritania—battling terrorism and trafficking in the Sahel region. Additionally, Turkey contributes personnel and funding to seven UN peacekeeping operations ((MONUSCO/DRC, MINUSMA/Mali, MINUSCA/CAR, UNAMID/Darfur, UNMISS/South Sudan, UNOCI/Cote d'Ivoire and UNMIL/Liberia) in Africa.
Humanitarian and development aid
Humanitarian and development initiative has been one, if not the only, of the most visible aspects of Turkey's engagements with Africa. After a devastating earthquake in 1999 and economic crises in 2000/2001, Turkey resumed its humanitarian and development assistance to Africa in 2004.
With its global Cooperation and Coordination Agency (TIKA) established in 1992, Turkey has spent more than $1.43 billion on humanitarian and development projects across Africa since 2004. In 2013, Africa was the biggest recipient of Turkish aid, receiving 33.7 percent of TIKA's total disbursement. These funds are earmarked for fighting poverty and supporting sustainable development in Africa. Furthermore, Turkey is a non-African member of the African Development Bank and helps fund projects administered by global organizations such as the World Health Organization, the World Food Programme and Red Crescent.
Fight against FETÖ
Upon the request of Ankara, many African countries have taken immediate action against the Fethullah Terrorist Organization (FETÖ), which orchestrated the thwarted July 15, 2016 coup. While some clamped down on schools and businesses run by the group and expelled their members, others have extradited them to Ankara.
Turkey has established the Maarif Foundation for Education to overtake FETÖ schools worldwide and has been so far successful in assuming control of some 32 schools in Africa.
Provision of higher education
Turkey, with its tremendous educational opportunities and generous hospitality, has attracted many African students seeking higher education. Each year Turkey grants government scholarships to more than 1,000 qualified African students pursuing quality higher education. Students command quality education in Turkey and cite that they were offered better job opportunities upon returning to their respective countries. These students form an integral part of the growing Turkey-Africa relations.
In summary, Turkey and Africa share many visions regarding their future and have mutually beneficial relationships. As Turkey's June 24 presidential and parliamentary elections approach, Africa looks forward to celebrating Ankara's democratic achievements as well as its 10th anniversary of strategic partnership. Most importantly, it expects a strong and stable Turkey that will maintain c the growing bilateral relationship. It is these shared partnerships that compel both Africans and Turks to more closely pursue cooperation and ties.
By Abdinor Hassan Dahir, an Assistant Researcher at TRT World Research Centre, and Project Coordinator for the TRT World Citizen initiative.