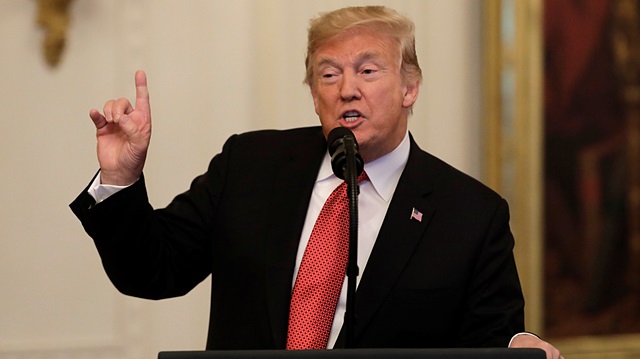 U.S. President Donald Trump
The U.S. has requested audio and video evidence concerning Saudi journalist Jamal Khashoggi's disappearance "if it exists," U.S. President Donald Trump said Wednesday.
"We have asked for it. If it exists we have asked for it," Trump told reporters in the Oval Office, adding it "probably does" exist.
Trump said he was waiting to be briefed on the missing journalist from Secretary of State Mike Pompeo when he returns from his trip to Ankara and Riyadh.
Khashoggi has not been since he entered the Saudi consulate in Istanbul on Oct. 2 as fears mount he was killed in the diplomatic facility.
Multiple reports have cited audio and video recordings containing grisly details of Khashoggi's alleged killing at the hands of Saudi operatives after he entered the consulate.
On the same day Khashoggi entered the consulate, 15 other Saudis, including several officials, arrived in Istanbul on two planes and visited the building while Khashoggi was still inside, Turkish police sources said. All of the identified individuals have since left Turkey.
Trump continued to stand by Saudi Arabia after saying earlier this week that Khashoggi's disappearance could have been the work of "rogue killers," but said he is "not giving cover at all" to Riyadh, whom he repeatedly called a close U.S. ally.
"They're an important ally, but I want to find out what happened, where is the fault, and we will probably know that by the end of the week," Trump added.
Saudi Arabia has yet to give a sufficient answer for Khashoggi's fate more than two weeks after he went missing, but continue to deny any role in his disappearance.
5 years ago