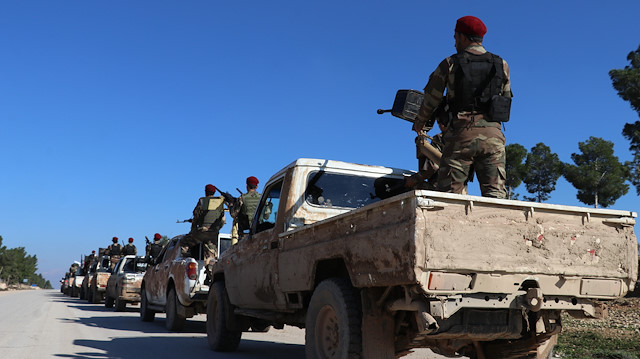 Opposition commander Adnan Abu Faisal and his army are encamped near the frontline in northern Syria, waiting to launch an operation on his home city of Manbij.
But they are not the ones who will decide whether to march on the strategically important city, held for more than two years by YPG terrorists supported by the United States.
The decision will depend on Turkey, the main backer of Abu Faisal's group, and on how contacts evolve between Washington and Ankara over the United States' plans to withdraw forces from Syria, a move set to reshape a major theatre of the war.
The United States and Turkey are allies both in the NATO defence alliance and in the fight against Daesh, but Ankara sees the YPG as a threat to its national security.
Abu Faisal's fighters are awaiting orders near Jarablus, a town held by Turkey and its Syrian rebel allies about 35 km (22 miles) south of Manbij. The frontline in the area runs through open farmland where wheat and corn are usually grown.
"We are ready with our forces ... for 'zero hour' to begin any military action," Abu Faisal, whose forces have more than 300 vehicles including pickup trucks and armoured vehicles provided by Turkey, told Reuters.
"Preparations are going at full speed," he said.
Abu Faisal, 36, was an army captain before Syria's civil war began in 2011 but defected from the Syrian army in 2012 to join the fight against President Bashar al-Assad.
Abu Faisal helped wrest control of Manbij from the Syrian army early in the conflict but fled when it was seized by Daesh in 2014 and has not set foot there since then.
Manbij lies near the junction of three separate blocks of territory that form spheres of Russian, Turkish and, for now, U.S. influence.
Abu Faisal's opposition fighters, backed by Turkish forces, made their own advance towards the city the same day but stopped short of an attack. Since then, Turkey has been engaged in diplomatic contacts with Washington and Assad's Russian allies.
Abu Faisal said "political understandings" would determine whether the operation went ahead, reflecting the influence of foreign powers in the Syrian conflict. A political solution that spared blood would be welcome, he added.
TRUST IN TURKEY
For Abu Faisal, the YPG -- People's Protection Units -- is no less of an enemy than Daesh or Assad.
A possible mission east of the Euphrates, which Turkey's leadership has been suggesting for months, would follow two successful cross-border Turkish operations into Syria since 2016 – Operation Euphrates Shield and Operation Olive Branch – both meant to eradicate the presence of YPG/PKK and Daesh terrorists near Turkey's borders.
The PKK is listed as a terrorist organization by Turkey, the European Union and the United States. The YPG and PYD are its Syrian extensions.
Abu Faisal -- head of the opposition's Manbij Military Council in exile -- says it would be a catastrophe if Assad were allowed to recover Manbij. He warned this would trigger yet more displacement of civilians fleeing a return of Assad's rule.
His priority is to secure the return home of Manbij residents who have been living either as refugees in Turkey or in nearby areas of northern Syria that are controlled by Turkey and its Syrian allies.
"There cannot be acceptance of any political solution or military solution except with the return of these displaced people to their city," Abu Faisal said.
"Our goal is to reassure the people of Manbij that its people will run the affairs of this city," he said.