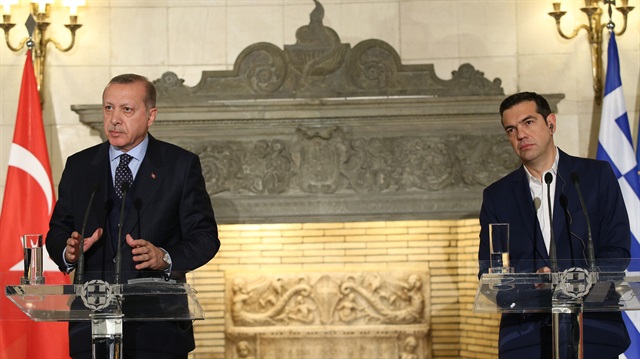 Turkish President Recep Tayyip Erdoğan on Thursday demanded the extradition of coup plotters from Greece, referring to eight soldiers who flew to northern Greece during Turkey's July 15 failed coup attempt orchestrated by Fetullah Terrorist Organization (FETÖ).
Speaking in Athens during a joint news conference with Greek Prime Minister Alexis Tsipras, Erdoğan also called for an improvement in the ethnic status of Turks living in Greece.
FETÖ terrorists are led by U.S.-based Fetullah Gülen, who is the mastermind behind a long-running campaign to overthrow the state through the infiltration of Turkish institutions.
Since the failed coup, operations have been ongoing in the military, police and judiciary as well as in state institutions across the country to arrest suspects with alleged links to FETÖ.
The terrorist group is also known for its network comprised of hundreds of schools around the world.
'US Jerusalem decision tramples on law'
Erdoğan added that U.S. President Donald Trump's "unfortunate" decision to recognize Jerusalem as the capital of Israel was "trampling on international laws".
Erdoğan also said Turkey wanted to see a lasting solution on the island of Cyprus, but said Greek Cypriots were avoiding talks.
Greece, Turkey agree to launch confidence building measures
Greece and Turkey have agreed to launch "confidence building measures" under their supervision, Prime Minister Alexis Tsipras said at the conference.
"We agreed to resume talks, under our supervision, on confidence and security measures, as well as exploratory talks on the continental shelf," Tsipras said.