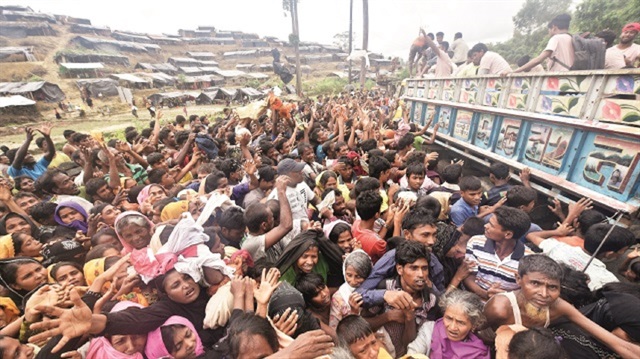 More aid is being sent to Rohingya Muslims in Cox's Bazaar, Bangladesh, after a Turkish delegation, headed by Turkey's first lady Emine Erdoğan and Foreign Minister Mevlüt Çavuşoğlu, delivered 1,000 tons of aid to Bangladesh. So much so that the authorities in Bangladesh who previously did not accept any refugees from Rakhine are now personally delivering aid to Rohingya Muslims
Bangladesh, for the first time in 15 days, assisted the Rohingya Muslims, who are expecting aid in their bamboo-made makeshift tents. Gathering on the 50 kilometer-long muddy Teknaf road, Rohingya Muslims almost crushed each other trying to catch the clothing and rice bags being thrown from moving trucks. No crisis desk has yet been established in Rakhine, where aid is delivered in an unorganized manner.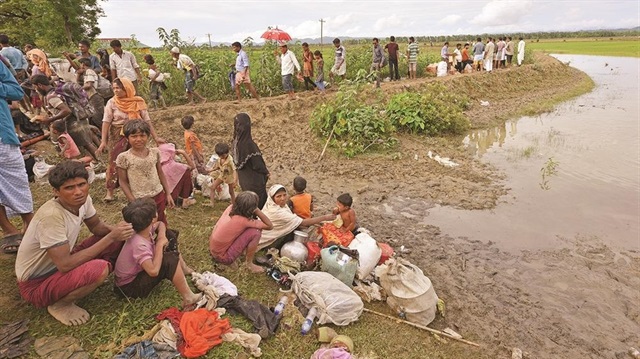 Aid reaches a total of 45,000 people
Arriving in the region just as the persecution in Rakhine started, the Humanitarian Relief Foundation (İHH), a Turkish aid agency, helps the refugees survive, by providing 2,000 people with a hot meal every day. İHH teams, welcoming the weary Rohingya Muslims who manage to cross the Naf River at the Rakhine border, distribute water, fruit juice or food packages to the newcomers. Providing nearly 2,000 families with rice and 200 families with financial aid in the Palonkhali camp, the Humanitarian Relief Foundation said that they have reached around 45,000 people so far.
People ready to help
Visiting Bangladesh with President Recep Tayyip Erdoğan's wife Emine Erdoğan, "The moment Bangladesh permits the establishment of camps, we can load the tents on the ship and send them. We are ready to provide aid in many fields such as shelter, health and education, as well as food," the Turkish Disaster and Emergency Management Presidency (AFAD) President Mehmet Güllüoğlu said.
Noting that Bangladesh is an underdeveloped country, Güllüoğlu added: "The authorities from Bangladesh say that they are already poor, and they do not want any population of refugees. Therefore, a stateless crowd of people without any identification remain on the border. Turkey, however, by paying a high-level visit has stated that 'there is an ongoing crisis, and we are ready to help.' The official talks here were very positive. We expect positive feedback."
Stating that Turkey took an important step to draw the world's attention to Rakhine, "People and institutions from various countries who noted our visit to Bangladesh call us and ask us what they can do [for Rohingya Muslims]. After permission is granted, many countries will help Rohingya Muslims," Güllüoğlu said.
An estimated 300,000 Rohingya refugees have fled Myanmar in the past two weeks and sought refuge in Bangladesh, where two existing refugee camps are "bursting at the seams", according to the U.N. refugee agency UNHCR.
In a crackdown last October, the UN documented mass gang rapes, killings – including infants and young children – brutal beatings and disappearances that constituted evidence of human rights violations by security forces that indicated crimes against humanity.