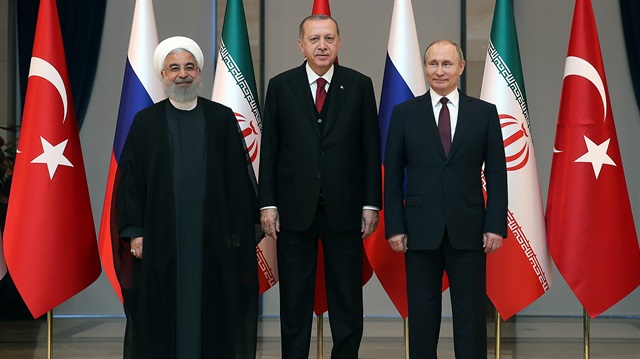 Turkish President Recep Tayyip Erdoğan said on Wednesday that the main aim of the tripartite summit between Turkey, Russia and Iran was to rebuild Syria.
Speaking at a joint conference alongside the Russian and Iranian presidents on the margins of the summit hosted by Ankara, Erdoğan stressed that all three nations are going to work together to make Tal Rifaat habitable again for Syrians.
"All regions occupied by the PYD/YPG will be rendered safe. Our fight against PYD/YPG terrorists is not preventing our fight against Daesh, it is complementing it."
"These two terror groups seem like they're fighting each other, but on the contrary they always support one another," pointed Erdoğan.
Erdoğan stressed that Syria's territorial integrity is "indispensable," also warning that subdivisions imposed by those who are outside Syria are "null and void."
The first tripartite summit was held in the Russia's Black Sea resort of Sochi on Nov. 22, 2017 to discuss progress made in the Astana peace talks and changes in de-escalation zones across Syria.
Erdoğan said: "Turkey will not stop until all regions under PYD/PKK control, including Manbij, are secured. We will never allow either Syria or our region to be attacked by a few terrorist groups."
He also called on the international community to support a political solution to the Syrian crisis.
"Over 160,000 Syrians returned home"
"4,000 square kilometers were cleared from terrorists and rendered safe. We also improved the infra and superstructure to make these regions more livable for our Syrian brothers and sisters. A total of 160,000 [Syrian refugees] have returned and established a new life for themselves in their homeland. Hundreds of thousands of guests will return to Afrin after the infrastructure is fixed," he added.
"We want to build a field hospital for those injured in Eastern Ghouta in cooperation with the Russian armed forces," revealed Erdoğan.
Turkey launched Operation Olive Branch on Jan. 20 to clear terrorist groups from Afrin, northwestern Syria amid growing threats from the region.
On March 18, Turkish-backed troops liberated the town center of Afrin, which had been a major hideout for the YPG/PKK since 2012.
Syria's unity
For his part, Russian President Vladimir Putin stressed that all three countries are in agreement with regards to preserving Syria's territorial integrity
Putin also backed Erdoğan's call for imminent humanitarian aid in Syria.
Rouhani in his speech stated that Turkey, Russia and Iran wanted "everybody to recognize the unity of Syria.
The leaders of Turkey, Iran and Russia said that they were determined to speed up efforts to ensure "calm on the ground" in Syria, and to protect civilians in "de-escalation areas," according to a joint statement.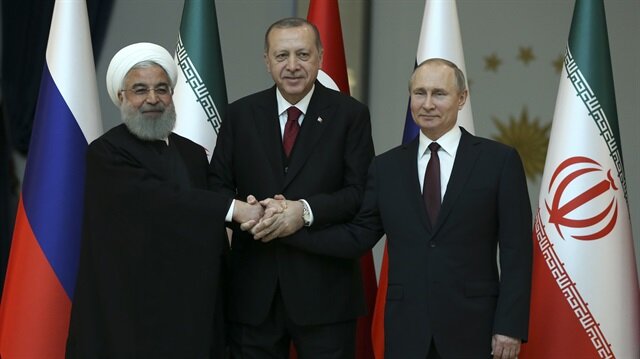 Syria has been locked in a vicious civil war since early 2011 when the Assad regime cracked down on pro-democracy protests with unexpected ferocity.