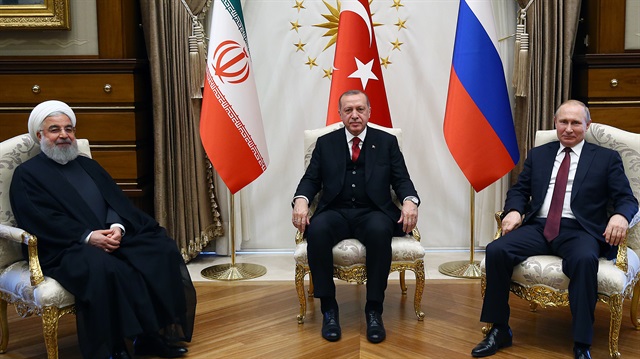 In a joint declaration Wednesday after a tripartite summit on Syria in the Turkish capital Ankara, the Turkish, Russian and Iranian presidents stressed their joint resolve to oppose separatism as well as the use of terrorism as an excuse for changing Syria.
The statement said the leaders "reject all attempts to create new realities on the ground under the pretext of combating terrorism."
It added that they "expressed their determination to stand against separatist agendas aimed at undermining Syria's sovereignty and territorial integrity as well as the national security of neighboring countries."
The leaders of Turkey, Iran and Russia said they were determined to speed up efforts to ensure "calm on the ground" in Syria, and to protect civilians in "de-escalation areas."
The closed-door meeting among Turkish President Recep Tayyip Erdoğan, Russian President Vladimir Putin, and Iranian President Hassan Rouhani started at 13.32 p.m. local time (1032GMT) and lasted around one hour and 40 minutes.
The statement also took note of developments on Syria since their last meeting last November in Sochi.
The first such tripartite summit was held in Russia's Black Sea resort of Sochi on Nov. 22 to discuss progress made in the Astana peace talks and changes in Syria's de-escalation zones.