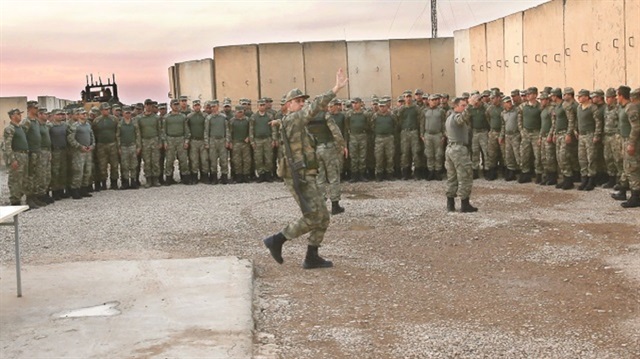 Turkish Prime Minister Binali Yıldırım has highlighted the sensitivity of Turkey against the terrorist formations in Kirkuk and Mosul provinces of Iraq, mandating the Baghdad government to sweep the all terror threats in the two provinces in return for Turkey's possible move of reevaluating the Turkish troop presence near Bashiqa in Mosul under Daesh occupation.
"We would reevaluate the entity of Turkish soldiers in Bashiqa if the Iraqi government takes necessary steps to successfully fight against all terrorist elements in Kirkuk and Mosul which is threatening the territorial integrity and security of Turkey," Prime Minister said according to the prime ministry sources.
According to sources, Yıldırım urged the Iraqi government to prevent sectarian-based violence and be the guarantor of a halt to the violence.
The Prime Minister's remark is significant as Turkey has a longstanding military training mission at Camp Bashiqa, where Turkish soldiers have trained both Peshmerga fighters and local tribal volunteers in combat techniques.
In recent months, the mission's presence in Mosul in northern Iraq has led to tension between Baghdad and Ankara amid calls by some Iraqi lawmakers for Turkish troops to withdraw.
Meanwhile, the KRG and Iraq's central government along with international coalition forces have been conducting operations in Mosul in order to drive Daesh terrorists out of the city since October of 2016.

'Sinjar should be cleaned of PKK'
Another remark of Yıldırım during his visit to Iraq was the total prevention of any Kurdistan Workers' Party (PKK) presence in Sinjar as PKK presence is a matter of Turkey's national security.
Yıldırım urged Iraq and Peshmerga to remove the PKK from the area and said that Turkey would take necessary steps.
"For us, terror is the same no matter where it comes from. Therefore, Sinjar poses a primary threat for Turkey and we thank the Dear Prime Minister's sensitivity to ignoring this threat. We are ready to do the necessary cooperation in this issue too," Yıldırım said.
In remarks made at a joint press conference, Yildırım said Turkey keeps on fighting against the PKK/PYD, both in Turkey and in our region, adding PKK's attacks on Turkey from Iraqi lands are unacceptable.
Previously, Turkish President Recep Tayyip Erdoğan recalled Turkey's determination to fight against the terrorists in Iraq and Syria and said:
"Iraqi region of Sinjar, west of Mosul, is on its way to becoming a new base for PKK terrorists and that Turkey would not allow this to happen."
FETÖ schools to be taken over by Maarif Foundation
Yıldırım's visit also accelerated Iraq's support to Turkey in its fight against the coupist Fetullah Terrorist Organization (FETÖ) as the two sides agreed that FETÖ-linked schools would be taken over by Maarif Foundation.
Iraq's support to Turkey against FETÖ is significant, as the terrorist organization is known to be using schools as tools to reach the children of the richest families of many countries across world, provide them education and intervene in their politics.

Providing medical support
The official visit of Turkish Prime Minister Binali Yıldırım has paved the way for the improvement of the bilateral relations between Ankara and Baghdad by establishing common commissions to carry out work, particularly in health and education areas.
As a part of this cooperation, Turkey will give support to the Iraq Kurdish Regional Government (KRG) by the construction of a hospital, it was disclosed during the meeting with KRG President Masood Barzani.