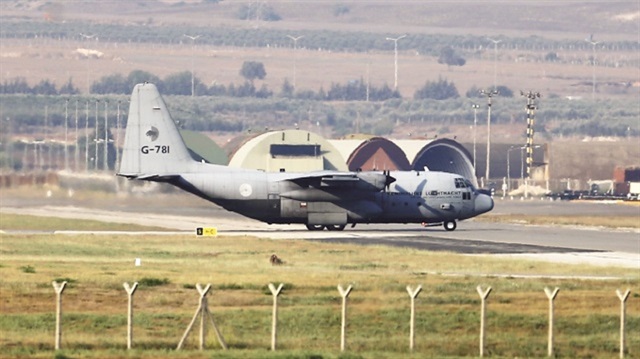 Turkey is considering denying American access to İncirlik Air Base, which is used to carry out U.S.-led airstrikes against Daesh in Iraq and Syria, if the Kurdistan Workers' Party (PKK) Syrian affiliate Democratic Union Party and the People's Protection Units (YPG), participate in the Raqqa operation against Daesh terrorist organization.
Ankara, which has repeatedly expressed its objection against the YPG's participation, during the ongoing talks with the Washington officials suggested that the Raqqa operation be conducted with the participation of the Free Syrian Army (FSA) along with local Arab and Kurdish elements.
İncirlik Air Base in southern Turkey is a key base for the counter-Daesh coalition campaign in Syria. It hosts six German Tornado aircraft and dozens of German troops as well as jets from the U.S., U.K., Saudi Arabia and Qatar.
İncirlik Air Base is significant since refueling aircraft depart from the İncirlik Air Base to refuel F-14 warplanes in flight. The air base also hosts a significant number of patrol and discovery jets.
Turkish airspace is also crucial for the U.S. to continue fighting against Daesh in Syria and Iraq.
U.S. warplanes' flights to Syria and Iraq would be interrupted if Ankara close its airspace to American warplanes, particularly F-14s.
Ankara has been expressing its frustrations regarding U.S. support of the PYD, YPG and Syrian Defense Forces (SDF), which fight against Daesh.
The PKK is listed as a terrorist organization by the U.S. and EU. Since Turkey considers the PYD to be a PKK affiliate, Ankara says Washington should not cooperate with it.
Previously, Turkish military sources verified that the U.S. did not conduct airstrikes in support of Operation Euphrates Shield in al-Bab. The postponement of the Raqqa operation provided an advantage to Daesh terrorists over Turkish soldiers.
The U.S. postponed the Raqqa operation and also suspended the Mosul operation, which was being conducted with the support from the YPG.
The anti-Daesh coalition is made up of 13 countries, including the United States, the United Kingdom, France, Australia, Canada, Belgium, Denmark and the Netherlands.
However, all of these countries have been inactive against Daesh since the Turkey-backed FSA launched Operation Euphrates Shield on August 24, 2016.