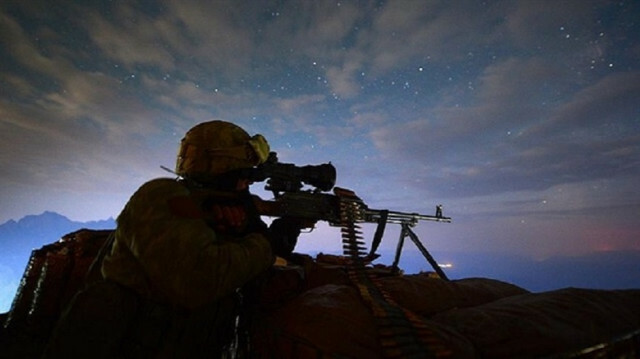 A senior female PKK terrorist was "neutralized" along with two other terrorists in northern Iraq, security sources said on Friday.
The terrorists were targeted in an operation by Turkey's National Intelligence Organization in the countryside of the Kirkuk region, some 170 kilometers (105 miles) from the Turkey-Iraq border, said the sources, who asked not to be named due to restrictions on speaking to the media.
Turkish authorities use the word neutralize in their statements to imply that the terrorists in question either surrendered or were killed or captured.
Taybet Bilen -- codenamed Silan Guyi -- was the so-called head of female PKK terrorists in the Gara region.
Bilen was among the senior terrorists within the YJA-Star and the PAJK terror groups, a women's branch of the YPG/PKK, and had joined the PKK in 1999 in the Iraqi town of Makhmur.
She also organized terror acts by the PKK in the Gabar region of Turkey's southeastern Sirnak province between 2004 and 2007, before being sent to Syria in 2013 where she organized groups that joined the YPG terror organization, which is the PKK's Syrian offshoot.
The terrorist also actively participated in PKK terror acts in the Syrian border cities of Ayn al-Arab (Kobani) and Qamishli.
Separately, Turkish forces neutralized two other PKK terrorists in northern Iraq, the National Defense Ministry announced.
The terrorists were targeted in an airstrike in the Avasin region, the ministry said on Twitter.
The PKK terror group often hides out in northern Iraq, just across Turkey's southern border, to plot terror attacks in Turkey.
In its more than 35-year terror campaign against Turkey, the PKK -- listed as a terrorist organization by Turkey, the US, and EU -- has been responsible for the deaths of at least 40,000 people, including women, children, and infants.