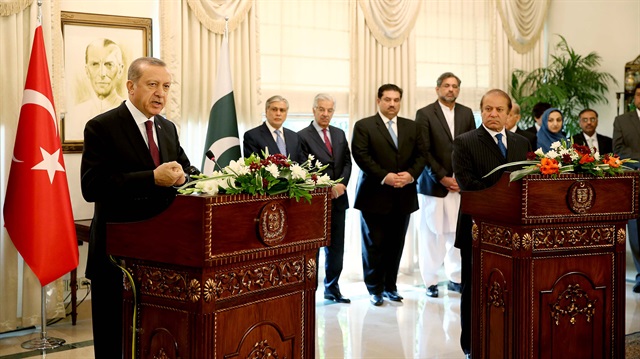 A free trade agreement (FTA) between Ankara and Islamabad is likely to be penned before the end of 2016, as Turkish and Pakistani leaders expressed in a joint press conference in Islamabad on Thursday.
"We are aiming to conclude the free trade agreement before 2017," Turkish President Recep Tayyip Erdoğan told media on the second day of his official tour to Pakistan.
He said that relations between the two countries had always been historical.
"I convey the greetings of my nation to the people of Pakistan," said theTurkish leader at the very beginning of his speech.
President Erdoğan expressed his gratefulness to Pakistani people for their unanimous support to Turkish people and their democracy during an attempted coup on July 15.
The Turkish nation foiled a coup attempt, organized and staged by the Fetullah Terrorists Organization (FETÖ)ö led by U.S.-based cult leader Fetullah Gülen, by sacrificing 241 brave citizens.
Gülen, who ran hundreds of terror cells under the guise of schools, charities and institutions of dialogue, was the mastermind of the coup attempt and ıs facing a life term in absentia as he is living in Pennsylvania under CIA protection.
"This group [FETÖ] has been establishing their secret structure under the pretense of 'peace and dialogue'. But the Turkish nation, as well as the world, saw its dark face on the night of July 15," Erdoğan said.
Erdoğan expressed Turkey's support to Pakistan in its fight against terrorism.
He also stated that the FETÖ terror group has created a tremendous threat for public order in Pakistan, showing his appreciation for Islamabad's efforts to fight against the suspicious structure.
"We remain determined to provide assistance to Pakistan in the fight against terror," he vowed.
Erdoğan assured Turkey watches incidents closely in Kashmir
Turkish president conveyed his nation's solidarity with people of Kashmir, who have been facing Indian brutality for decades.
"We are keeping an eye on the Kashmir issue and have serious concerns over the situation," Erdoğan said.
"The LoC situation and the Kashmir issue cannot be ignored," Erdoğan added.
The Line of Control (LoC) is a military control line between the Indian and Pakistani controlled parts of the former princely state of Kashmir and Jammu.
In recent weeks, clashes and casualties were reported from the LoC as the Indian army continuously attacked Pakistani military patrol stations on the border line.
"We are closely watching tension at LoC, and casualties there," Erdoğan said.
He said that Kashmir issue should no longer be a bilateral issue between Pakistan and India seeking international intervention.
Erdoğan reiterated Turkey's full support for Pakistan on the issue adding that this shouldn't be taken kindly by India.
Pakistan's President Nawaz Sharif said he was thankful to President Erdoğan for stressing that a peaceful resolution should be reached for the Kashmir issue.
He congratulated Turkish people for their determination against the coup attempt, saying the people of Turkey set an example to the world.
Sharif appreciated Turkey for supporting Pakistan's inclusion in the Nuclear Supplier Group.
He also agreed with the Turkish president to conclude their bilateral free trade agreement within this year.
Both leaders expressed that Turkey and Pakistan would continue to cooperate for prosperity and development in bilateral trade, defense, infrastructure, health and other sectors.
Before the press conference, Erdoğan and Sharif held a one-to-one meeting in Islamabad.
The leaders discussed the entire gamut of bilateral relations and means to further augment them in diverse sectors. They also talked about the security situation of the region.
The leaders' meeting was followed by delegation level talks between the two countries.
Both sides expressed satisfaction over the existing level of cooperation in different areas and decided to further strengthen them in the days to come
The Turkish President is expected to deliver a speech to a special session of the Pakistani parliament, then he will visit Lahore later today.