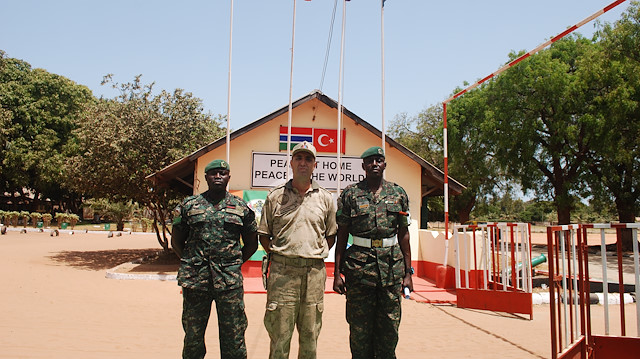 Turkey has given training to Gambian troops and provided military equipment and logistic support to tiny West African nation, a top Turkish military official said.
Speaking to Anadolu Agency in the Gambian capital Banjul, Col. Nihat Akturk, who is also a Turkish military adviser to the Gambian president, said both countries have been experiencing "the highest level of bilateral relations".
Turkey and the Gambia have a longstanding cooperation, particularly in military and security sectors since the establishment of the Turkish Gendarmerie Training Team for the Gambian military in February 1991.
Turkish military trainers travelled to the Gambia and trained around 7,000 Gambian soldiers until 2007, Akturk said.
After the expiry of the training agreement between two countries in 2007, Gambian troops started receiving training in Turkey and since then around 500 Gambian soldiers have visited Turkey for the training, he added.
Since the same year, Ankara has been appointing a gendarmerie colonel as Turkish military adviser to the Gambian president.
"Turkey is a role model country for Gambian military, security and other governmental institutions," said Akturk, who was also appointed as director at the Gambia Armed Forces Training School in the capital Banjul.
- Military equipment
As many as 7,500 Gambian soldiers have been trained by the Turkish military both in their country and in Turkey.
Many of them received special training at Turkish Military Schools, Gendarmerie and Coastguard Academy, Gendarmerie Commando School, Police Academy and other institutions in Turkey.
"We support the Gambian army in many fields like logistic, education, formation etc. Last year, Turkey's logistic aid to Gambia was $1.4 million," Akturk said, adding that the relations between Ankara and Banjul are "at the high level in many areas."
Earlier this year, Turkey donated military equipment to the Gambian army which has around 8,000 troops.
The equipment includes 5,000 sets of uniforms, 6,000 pairs of combat boots, 1,359 cartridges and belts, 5,000 water bottles, 50 five-man tents, 50 pieces of 20-man tents and several other military items.
Moreover, around 300 personnel in military and police along with other public and private sectors have taken higher education in Turkish universities with high proficiency of Turkish language, he went on to inform.
Akturk said his country will intensify its support to the Gambian security forces in the areas of training and logistics to enhance their operational and military capabilities.