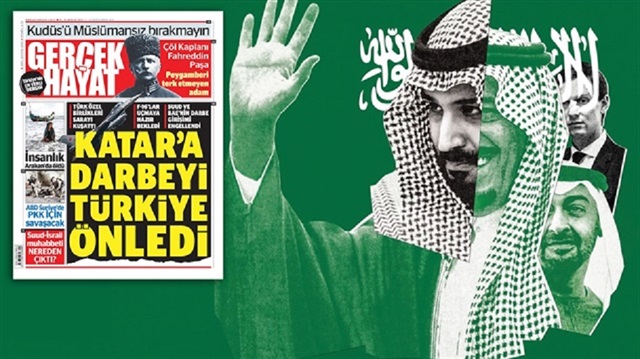 In an article titled "A Saudi prince's quest to remake the Middle East" published in The New Yorker, Dexter Filkins says that Turkey sent troops to Qatar in response to a possible invasion by Saudi Arabia and the United Arab Emirates (UAE).
"American officials concluded that M.B.S. and M.B.Z. were preparing to overthrow Qatar's government," it reads, referring to Saudi Arabian Crown Prince Mohammad bin Salman and UAE Crown Prince Mohammed bin Zayed.
"The government of Turkey, which had a military base in the capital, sent a new detachment of soldiers," wrote Filkins, adding that the coup plan had been approved at a summit in Riyadh.
The "intention was to replace the Emir," it continues, citing an American diplomat.
Turkey's Gerçek Hayat (Real Life) Magazine revealed that Turkey had prevented the coup in its Dec. 25, 2017 edition.
"On the night of June 5, close to 200 specially trained Turkish forced deployed close to Qatar took action with orders from Ankara. Meanwhile, specially trained teams from Saudi Arabia and the UAE were also about to mobilize toward the same target. It was the Turkish troops who acted earlier," wrote Mehmet Acet.
Saudi Arabia, Egypt, the United Arab Emirates (UAE), Bahrain and Yemen announced in June 2017 that they cut diplomatic ties with Qatar, accusing Doha of supporting terrorism, charges which Qatar denies. They also imposed a land, sea and air blockade, causing the largest diplomatic crisis in recent years.