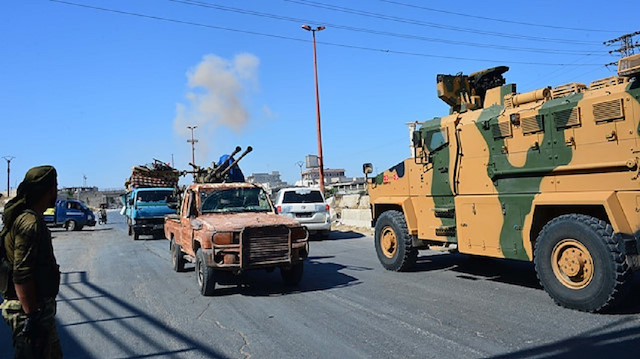 Three civilians were killed and 12 more wounded after regime air strikes hit near a Turkish military convoy that was heading to an observation post in Syria, Turkey's Defense Ministry said Monday.
"We strongly condemn this attack that contradicts existing agreements, cooperation, dialogue with Russia," the statement read.
The convoy was heading to Observatory Point No. 9 in Syria's Idlib, and Russia had been told in advance about the convoy, it added.
The observation post, located 88 kilometers (55 miles) from the Turkey-Syria border, was established in Arpil 2018.
The province of Idlib -- one of the most targeted areas by the regime forces -- has been a stronghold of opposition since the beginning of the civil war in Syria. Its population has reached four million due to internal migration.
The Astana peace process, aimed at ending the Syrian conflict, was launched in January 2017 by Russia and Iran, allies of the regime, and Turkey. So far 13 rounds of talks have been conducted in Astana, the capital city of Kazakhstan.
Last September, in the Russian city of Sochi, Turkish President Recep Tayyip Erdogan and his Russian counterpart Vladimir Putin agreed to set up a demilitarized zone -- in which acts of aggression are expressly prohibited -- in Idlib.
Under the deal, opposition groups in Idlib were supposed to remain in areas, where they were already present. Russia and Turkey were to carry out joint patrols in the area, to prevent resumption of fighting.
On Oct. 10, the Turkish Defense Ministry announced that the Syrian opposition and other anti-regime groups had completed the withdrawal of heavy weapons from the Idlib demilitarized zone.
Despite the cease-fire agreement, the Assad regime and its allies continued their low-intensity attacks on Idlib's de-escalation zone.
The conflict in Syria began in 2011, when the Assad regime cracked down on demonstrators with unexpected ferocity.
Since then, hundreds of thousands of people have been killed and more than 10 million others displaced, according to UN officials.
4 yıl önce