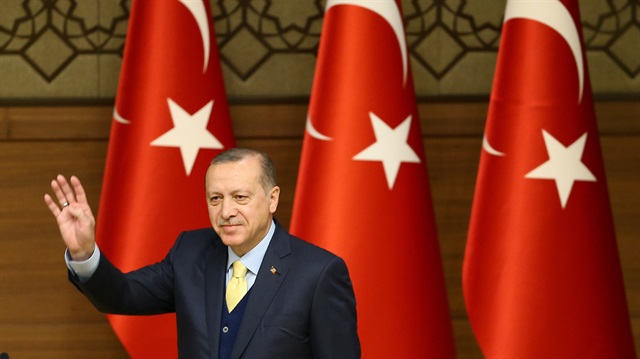 Turkish President Recep Tayyip Erdoğan
In its operation in northwestern Syria, Turkey wants to forge justice, not take land, Turkey's president said on Wednesday.
Addressing local officials at the presidential complex, Recep Tayyip Erdoğan said that in the operation in Afrin, Syria, along Turkey's borders, the Turkish Armed forces backed by Free Syrian Army (FSA) fighters are taking the region under control.
"Our concern is the establishment of justice, not land," Erdoğan said.
Turkey will first destroy the terrorists and then, after Operation Olive Branch is concluded, enable 3.5 million Syrian refugees in Turkey to return to their homes in safety, he added.
Turkey launched the operation last Saturday to remove PYD/PKK and Daesh terrorists from Afrin.
The Turkish General Staff said the operation was aimed at establishing security and stability along Turkey's borders and the region as well as protecting Syrians from terrorist oppression and cruelty.
It said the operation was being carried out under the framework of Turkey's rights based on international law.
The military has also said that only terrorist targets are being destroyed, and "utmost diligence" was being shown to avoid collateral damage to the civilian population.
Afrin has been a major hideout for the PYD/PKK since July 2012 when the Assad regime in Syria left the city to the terror group without putting up a fight.
6 yıl önce