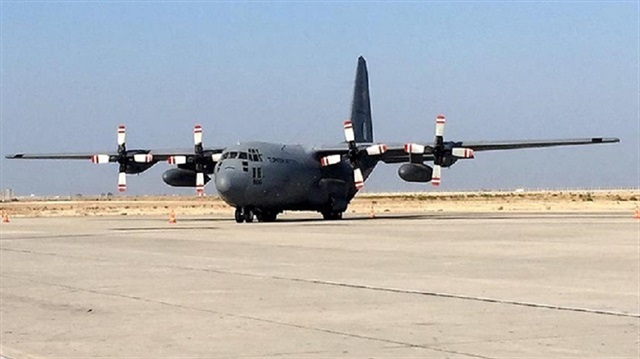 Turkey sent a search-and-rescue team via military cargo plane on Monday to northern Iraq after an earthquake measuring 7.3 on the Richter scale rocked region of Iraq and Iran on Sunday night, killing at least 328 in Iran alone.
According to Mehmet Güllüoğlu, head of Turkey's Disaster Management Agency (AFAD), a total of 60 tents, 320 blankets, two vehicles, medical supplies and a team made up of 25 personnel were sent with a military cargo plane to the disaster-stricken areas in Iraq, and, if possible, are planned to land in the Suleimaniyah Airport.
Güllüoğlu noted that the crews are coordinating with the central Iraqi Government, in addition to the Iraqi Red Crescent.
The military cargo plane bound to Iraq's Suleimaniyah took off from capital Ankara's Etimesgut's 11th Air Transport Main Base at 9:25 a.m. (local time).
Güllüoğlu noted that so far there has been no request for aid from Iran, noting that Turkey's Foreign Ministry had relayed to Iranian officials Turkey's readiness to send aid if needed.
Güllüoğlu noted that in addition to the search-and-rescue team sent to Iraq, a first aid crew that is affiliated with the National Medical Rescue Team (UMKE) has also mobilized to disaster-stricken areas.
Turkey's Deputy Prime Minister Bekir Bozdağ said that a total of 3,000 tents, 3,000 blankets and a food rig were sent by the Turkish Red Crescent to Iraq's north "immediately."
He also added that 4,000 more blankets from Turkey's southeastern provinces Muş and Diyarbakir were directed to the Habur border gate.
The Turkish Foreign Ministry issued a statement that offered condolences to Iraq and said Turkey is "ready to help" with aid agencies AFAD (Turkey's Disaster Management Agency) and Kizilay (Turkish Red Crescent).
The quake was followed by a dozen aftershocks ranging from 3.1 to 4.1 in magnitude, according to the U.S. Geological Survey.
The quake also destroyed a number of buildings in rural areas and caused cracks in the walls of villages and towns some 122 kilometers to the west of Kermanshah city, Fars News Agency added.
The earthquake was also felt in Turkey's southeastern and eastern regions, including the Diyarbakir, Batman, Mardin, Hakkari, Van, Mus, and Sirnak provinces.It was also felt as far as Kuwait, Syria, Lebanon and Pakistan.
6 yıl önce