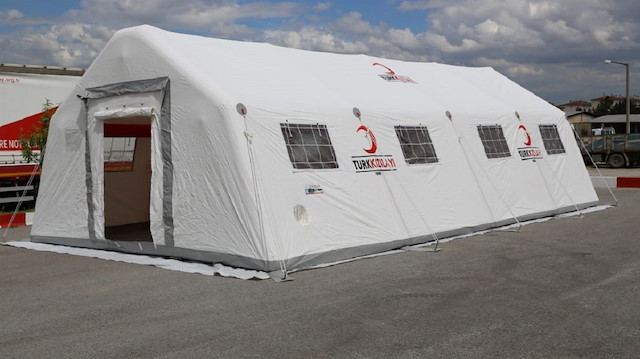 The Turkish Red Crescent sent its inflatable air tent to a hospital in the Turkish Republic of Northern Cyprus (TRNC) on Thursday.
The tent, which the Guzelyurt Cengiz Topel Hospital urgently needed due to the novel coronavirus, was set up in cooperation with the Turkish Red Crescent and the Turkish Red Crescent of Northern Cyprus.
Thanks to the 56-square meter (602.7-square feet) tent, locals coming for polyclinic services will be prevented from contacting COVID-19 patients and hospital doctors as well as managers will be able to work more efficiently in the fight against the virus.
As of Wednesday, TRNC reported four deaths due to COVID-19 and 639 coronavirus cases. A total of 356 people have recovered from the virus.
The coronavirus pandemic has claimed more than 941,000 lives in 188 countries and regions since last December.
The US, India, and Brazil are currently the worst-hit countries.
Over 29.88 million COVID-19 cases have been reported worldwide, with recoveries exceeding 20.33 million, according to figures compiled by the US' Johns Hopkins University.