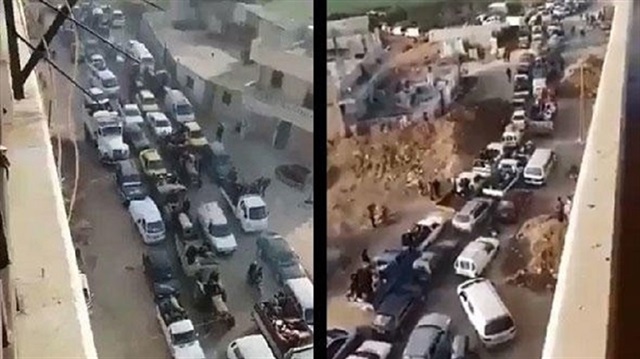 As the Turkish Armed Forces (TAF) and Free Syrian Army (FSA) fighters encircle the city center of Afrin, a civilian convoy was able to evacuate the northwestern Syrian region through safe corridors that were set up by Turkey.
The safe corridors are set to ease civilians' exit from the southern parts of the Afrin city center.
The Turkish Armed Forces announced on Tuesday that the Afrin city center, in northwestern Syria, has been surrounded since Monday as part of the Turkish-led Operation Olive Branch.
On Jan. 20, Turkey launched Operation Olive Branch to clear YPG/PKK-Daesh terrorists from Afrin, northwestern Syria.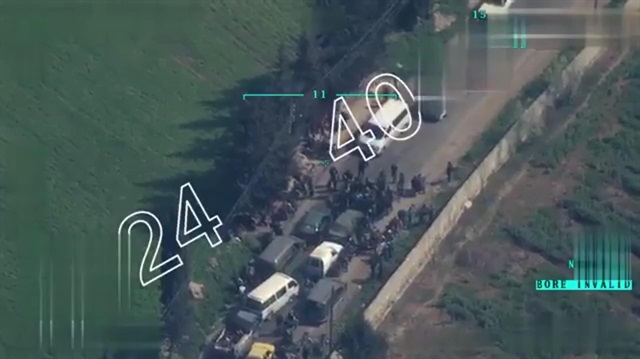 According to the Turkish General Staff, the operation aims to establish security and stability along Turkey's borders and the region as well as to protect Syrians from the oppression and cruelty of terrorists.
The operation is being carried out under the framework of Turkey's rights based on international law, UN Security Council resolutions, its self-defense rights under the UN charter, and respect for Syria's territorial integrity, it said.
The Turkish army and FSA have besieged the town of Afrin, 90 villages and a nearby town, the Syrian Observatory for Human Rights said on Tuesday, confirming the Turkish military's statement that it had encircled the area.
A total of 3,393 terrorists have been neutralized since the start of the operation, the army said in a statement on Tuesday morning.