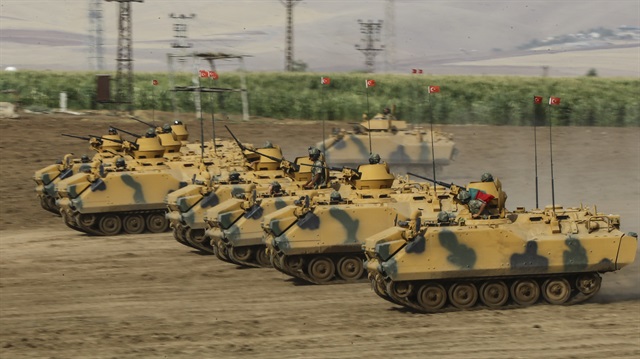 TAF conducts military drill in Turkey's Şırnak
Turkey's moves are shattering the dirty games being played in the region. A great blow was dealt to the terror corridor and Daesh as a result of Operation Euphrates Shield, which cleared a large area of terrorist organizations and ensured the safety and security of Syrians.
Hundreds of thousands of Syrians returned to the area after Operation Euphrates Shield cleared 2,015 square kilometers of land between Azaz, al-Bab and Jarabulus.
The people of Azaz, Dabiq, al-Bab and Jarabulus now live in peace. The Turkish Armed Forces (TAF) are now running a security operation for Syria's northwestern Idlib. Turkey has become a source of hope for millions of oppressed Syrians.
Manbij and Afrin are next
Many Syrians taking refuge in Turkey are waiting to return to their country upon the completion of securing the region extending from al-Bab to Idlib. The Euphrates Shield area will continue to expand. A safe corridor will be formed on the Azaz, Jarabulus, al-Bab and Idlib line. With the isolation of Manbij and Afrin from terrorists, Turkey will regulate 511 kilometers of the 911-kilometer Syria border.
This region is known as the land where Turkmens lived for many years. Joint steps taken by Turkey, Iraq and Iran to sever the terror corridor on the Ovaköy trade route will return areas, where Kurdistan Regional Government (KRG) leader Masoud Barzani's occupation altered demographics, to their former state.
As a result of the Ovaköy project, the supply line between the Kurdistan Worker's Party (PKK) in Iraq and the Democratic Union Party (PYD) in Syria will be cut off. The western part of Dicle will be fully controlled by Baghdad.
Chain of operations to clear region
Operations targeting the PKK beyond Turkey's border are on the agenda. The aim is to clear the region from Iraq's Zap to Sinjar of terror organizations. The chain of operations extending from the Mediterranean to the Iranian border, signifying the "Turkey Shield" will be conducted with regional countries.
6 years ago