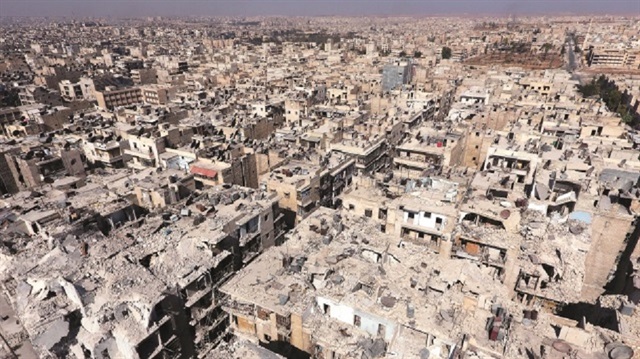 National Coalition for Syrian Revolution and Opposition Forces member says Syria problem can only be overcome through guarantor countries.
Claims that Aleppo, Syria's second largest city, among other central cities, will be under Turkey's control have arisen. Before Syria was ravaged by war, Aleppo hosted a population of 5.5 million people, but 75 percent of the city was emptied in 2013 after the opposition left. Once under Turkey's control, Aleppo will be rebuilt and over three million Syrian refugees who were forced to flee to Europe will be able to return to their hometown as control is delivered jointly to the Turkish Armed Forces (TAF) and Free Syrian Army (FSA) alliance.
Ankara and Moscow are communicating
Turkish and Russian officials are discussing the Aleppo matter.
"Great political and military progress has been made regarding Turkish control of Hama, Aleppo and Idlib. The return of more than three million civilians from Turkey and Europe to Aleppo will begin with the withdrawal of regime forces and Shiite militias from the region," National Coalition for Syrian Revolution and Opposition Forces member Fuat Aliko told Yeni Şafak daily.
Following the evacuation of the Fua and Keferya villages, which are connected to Idlib, a "Sunni corridor" map including Hama, Aleppo and Idlib will crystalize, Aliko added.
From the second half of 2018, the U.S. and PKK will administer the east, Turkey and the FSA will administer central areas and Russia and the Asaad regime will administer the south and western areas, Aliko stated.
"Lattakia, Tartus, Homs, Damascus and Deir ez-Zor will be controlled by the Assad regime and Russia. Al-Hasakah, Raqqa and the Deir ez-Zor countryside will be delivered to the U.S.-PKK alliance. The central areas which will mostly be inhabited by Sunni Muslims – Hama, Idlib and Aleppo – will be under Turkey's control. Negotiations between governments are ongoing. Al-Iys, Rashidin, al-Bab and Han Asal are already surrounded by the TAF and FSA. The upcoming period will be one of diplomacy and politics as opposed to military moves. The multidimensional process that includes Turkey also includes regional and global actors," Aliko said.
"The presence of Shiite militia in areas controlled by the Assad regime and Russia is an international problem. The PKK, which is listed as a terrorist organization by many groups, is positioned to the east of the Euphrates and this is also an issue. A new era may be initiated with Turkish control of Aleppo. This is an important step to protecting Syria's territorial integrity. Parallel to the map which is terror-free and stipulates the presence of legitimate forces on the ground, there are hopes for political, military and economic solutions. The operations in Damascus, Homs and Daraa as well the realization of the control areas should be seen as clear mediations," Aliko added.
Assad regime is not powerful enough
"Turkey's initiative in Aleppo, the rebuilding of the city, the revival of industry and trade as well as the return of over 3 million Syrians to their homeland is backed by many European and Arab states. In Aleppo, Hama and Idlib, infrastructure elements such as industrial facilities, houses, city infrastructure, electricity and water were almost completely destroyed. The Syrian regime will not remedy this problem and will not be able revive Idlib and Hama, and especially not Aleppo. There is no chance of the Assad regime receiving international support either. This problem can only be overcome with a strong country like Turkey's guarantor status and responsibility. Russia, Damascus and Iran are also aware of this situation," Aliko said.
5 years ago