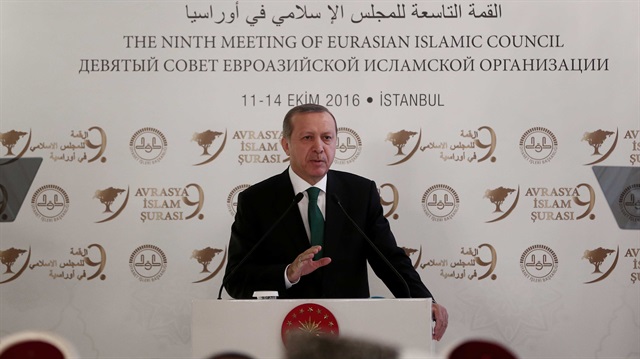 The Turkish military will join the Mosul Operation to liberate the city from the Daesh terrorist organization, Turkish President Recep Tayyip Erdoğan said on Tuesday.
During his opening speech at the 9th Eurasian Islamic Council in Istanbul, the Turkish president slammed Iraqi Prime Minister Haider al-Abadi for his recent comment targeting Erdoğan personally.
'You're not in my quality'
"The Iraqi prime minister is insulting me, first know your limits. You are not my collocutor. Even you are not in my quality, my level," Erdoğan said.
The dispute between Ankara and Baghdad increased in recent days before the Mosul operation when the Iraq administration accused Turkey's military presence in Bashiqa military camp near Mosul as being illegal.
Ankara repeatedly said the Turkish military has been stationed in the camp after the official request by the Iraqi government in 2014 to train local forces.
"Iraq had certain requests from us regarding Bashiqa," Erdoğan said adding, "We have the records and documents on this that can be shared with the media."
Erdoğan said that the Turkish army had not lost so much standing as to take orders from the Iraqi PM.
He stressed that the Turkish military will continue to do its duty in Bashiqa camp, as it had done before.
"The Turkish military will enter Mosul," he added.
FETÖ is a sedition movement
While speaking on the Fetullah Terrorist Organization, or FETÖ, Erdoğan said it was a sedition group which has no relation with Islam.
"FETÖ is a sedition group with questionable sources, which attempted to divide the Muslim Ummah. The real face of the group is invisible," Erdoğan said.
Erdoğan believes that the real face of the FETÖ terror group would be unveiled in the Eurasia region.
The FETÖ terror group, led by the U.S.-based, so-called, cleric Fetullah Gülen, had planned and staged a military coup in Turkey on July 15.
Gülen, the mastermind of the coup attempt, had established a worldwide network of his illegal organization under the guise of educational works, charity foundation and religious activities.
But the real face of the group had emerged after the failed coup that killed 241 people in Turkey and injured more than 2,200 others.
Erdoğan said that Muslims are being killed by Muslims in Northern Africa and the Middle East.
"This situation makes the region open for foreign invasion under the excuse of terrorism," he said.