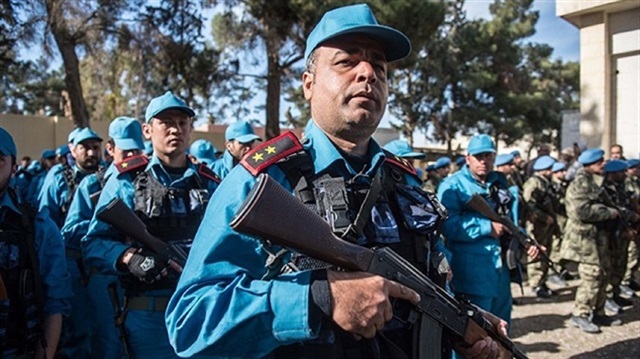 Civilians in Syria's northwestern Afrin are returning to liberated areas after the Turkish Armed Forces (TAF) and Free Syrian Army (FSA) cleared their villages and districts from terrorists of the Kurdistan Workers' Party as Operation Olive Branch continues.
Safety will be provided by local police officers of Afrin in the near future. Abdul Aziz Tammo, a representative of the 30-member local council, which was designated during the Afrin congress in Turkey's southern province Gaziantep, and also the president of the "Association of Independent Syrian Kurds," explained that Turkey will train and appoint one thousand local police officers in the first stage.
"The youngsters will ensure order in the center of the Afrin district. Turkey will provide law and order, security and safety training to one thousand Afrin locals within the next three to six months. After training has been concluded, the true owners of Afrin will provide security in the Afrin city center and its villages. In the meantime, the Turkish military will provide security. The Turkish military are our brothers and sisters," he said.
World will witness
He also stated that residents who fled the region due to the oppression of the [PKK] terrorist organization were returning home.
"When people return and feel the peace and security, they will tell their relatives and friends living in other cities. This will be a model for the world. We want to show the world how the Syrian people want to live in Afrin. We want to benefit from human rights in a peaceful way. We want the liberation of Manbij, Aleppo, Tel Rifaat, Rasulayn, Qamishli and Raqqa from terrorist organizations. Turkey is our only hope. The Turkish military targets the PKK/Daesh terrorists and not civilians. PKK is no different from Daesh," Tammo concluded.
On Jan. 20, Turkey launched Olive Branch op to clear YPG/PKK-Daesh terrorists from Afrin.
According to the Turkish General Staff, the operation aims to establish security and stability along Turkey's borders and the region as well as to protect Syrians from terrorist oppression and cruelty.