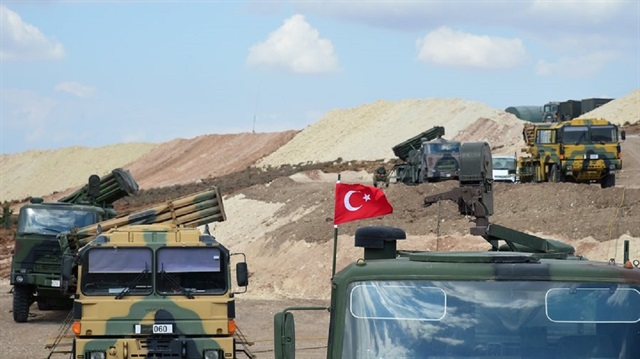 The Turkish Armed Forces encircled Syria's Afrin from the south, which is under the occupation of the Kurdistan Workers' Party (PKK)-affiliated Democratic Union Party (PYD) terrorist organization, as the Turkish military continues to establish observation posts in Idlib. After a military headquarters is built for surveillance in 14 different regions and security is ensured across Idlib, forces will turn toward Afrin. Military sources say an operation in Afrin has a strategic importance for Turkey's security and perpetuity. Accordingly, in the case that Afrin is purged from PYD terrorists and brought under control, the project of a U.S.-Israel-based terror corridor will be destroyed.
'Russia will not object to the Afrin operation'
The "Afrin lock" that will unite the Euphrates Shield region with Idlib, which consists of the Azaz, al-Bab and Jarabulus triangle, will open the doors to the PKK-held Manbij for the Turkish army. Pentagon, which declared the PKK terrorist organization as its "land forces," will be defeated and the terrorist alliance will be overthrown after the Turkish military achieves its goal in the region.
Military sources that spoke exclusively to Yeni Şafak said that Russia might lean toward the Afrin operation as well, as the Russia-backed Assad regime forces are combatting the U.S.-backed PKK/PYD terrorists in Deir ez-Zor. Moscow, which does not object to Ankara's Afrin move, will also be making a move against the U.S.-PKK alliance.
'Afrin will follow the Idlib operation'
Stating that the Idlib operation will open the doors to Afrin, sources said that Afrin is a strategic target for the peace of the region and Turkey, and Turkey will not close these doors. "The operation does not seem too difficult, and all kinds of measures have been taken and forces are deployed in the border for this move. Afrin has no current contact with other PKK regions. Even if there is such contact, the Assad regime is probably ensuring this, and Russia is capable telling them to 'stop.' Thus, Azaz-Tell Rifaat- Idlib can be mutually controlled, which will allow the encirclement of the PKK/PYD in Afrin."
Military sources added that Operation Shah Euphrates, Operation Euphrates Shield and the Idlib Operation, which are conducted by Turkey along the northern Syria zone, are the achievements of the Republic of Turkey on its way to becoming a world state, and these operations will be crowned with an operation in Afrin after Idlib.