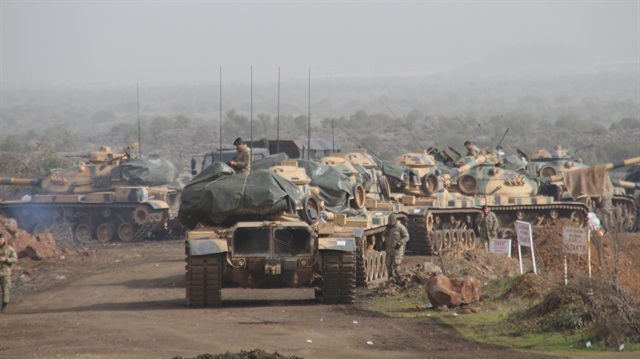 Turkish Prime Minister Binali Yıldırım announced that approximately 75 percent of the weapons and ammunition utilized by the Turkish Armed Forces (TAF) during Operation Olive Branch launched in Syria's northwestern district of Afrin were produced locally.
As Turkey's Operation Olive Branch enters its fourth day, the TAF has been active in northern Syria so as to ensure the security of Turkey's borders, protect the Syrian people from Kurdistan Workers Party (PKK) and Daesh terrorists' oppression and cruelty, and to establish a safe zone with a depth of 30 kilometers in Syria.
The operation is being carried out under the framework of Turkey's rights based on international law, UN Security Council resolutions, its self-defense rights under the UN charter, and respect for Syria's territorial integrity, according to the Turkish General Staff.
Operation Olive Branch, during which 108 PKK/PYD targets out of 113 have been destroyed so far, marks a global first in which 72 Turkish jets took off at once in the biggest sortie ever on the first day of the operation.
The most number of jets used in previous cross-border operations of this magnitude was only seen during Turkey's operation in northern Iraq in 2007, with 50 jets involved.
The fact that 108 out of the 113 PKK/PYD targets have been struck, which accounts to a 95.57 percent success rate is also unprecedented in world history. It's been reported by security experts that the number of countries which could launch an operation of this magnitude wouldn't surpass five.
The Turkish Armed Forces (TAF) extended Operation Olive Branch to Syria's Azaz district, east of the Afrin region, on Monday.
Turkey's domestically-produced national weapons and ammunition, being used in the current Operation Olive Branch to destroy terrorist positions, shelters, tunnels, arsenals and vehicles in occupied Syrian territories by the PKK/PYD were previously used by the TAF during Turkey's anti-terrorism operations in Operation Euphrates Shield which had been conducted by the TAF to eliminate the Daesh presence in Syria.
Operation Olive Branch was initiated on Jan. 20 in Afrin to establish security and stability, eliminate terrorists of PKK/KCK/PYD-YPG and Daesh, and save locals from the terrorists' oppression and cruelty.
The PKK is listed as a terrorist organization by Turkey, the European Union and the United States. The PKK has been conducting armed violence in the southeastern part of Turkey since 1984. More than 40,000 people, mostly civilians, have been killed in the three-decade long conflict.