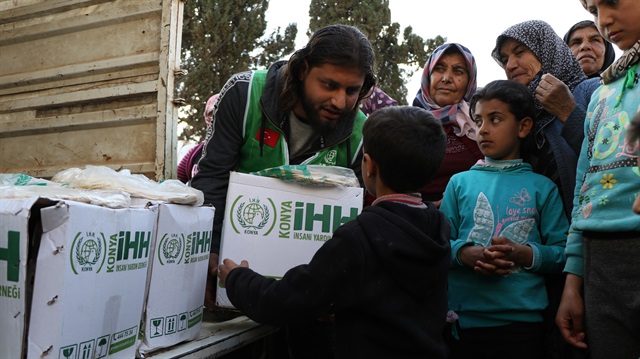 Turkey's Humanitarian Relief Foundation (IHH) is sending aid to families in a village in Afrin, Syria in the wake of its liberation from terrorists during Turkey's ongoing Operation Olive Branch.
The IHH distributed food aid, childcare packages, bread, and personal care kits to civilians living in the village of Kawkabah, near Afrin's center, which was liberated on March 11.
Selim Tosun, the foundation's media adviser, told Anadolu Agency that during the aid distribution, the agency noticed an urgent need for medicine and medical support in the region.
"After our volunteer doctors examine the villagers, we will provide medical support," he added.
Tosun said the IHH will continue to deliver humanitarian aid to civilians living in regions liberated from YPG/PKK terrorists during Operation Olive Branch.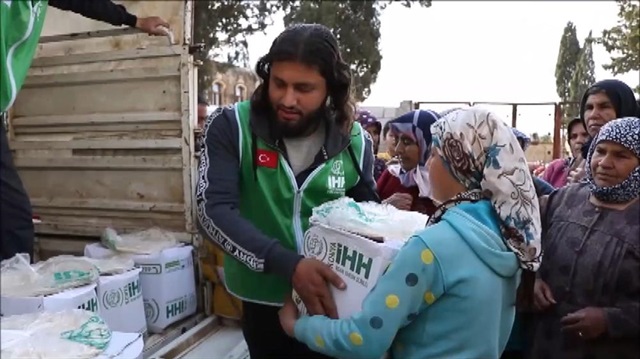 Turkey on Jan. 20 launched Operation Olive Branch to remove PYD/PKK and Daesh terrorists from Afrin.
According to the Turkish General Staff, Operation Olive Branch has aimed to establish security and stability along Turkey's borders and the region as well as protect Syrians from terrorist cruelty and oppression.
The operation is being carried out under the framework of Turkey's rights based on international law, UN Security Council resolutions, its self-defense rights under the UN charter, and respect for Syria's territorial integrity, it said.
The military has also said that only terrorist targets are being destroyed and the "utmost care" is being taken to avoid harming any civilians.
Turkish-backed troops liberated the town of Afrin, the region's center, early on Sunday.