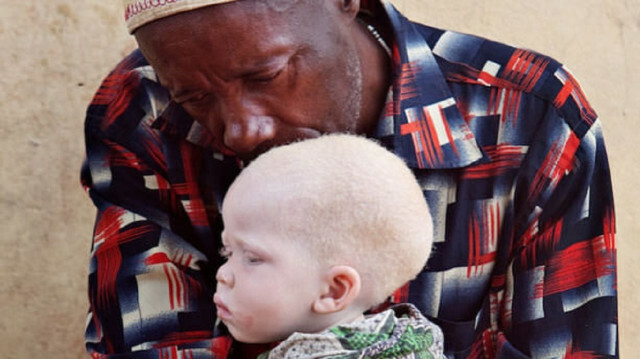 Turkish Airlines crew delivered sunscreen to albino children living in the outskirts of Dakar, capital of Senegal, hidden from the sun, the national flag carrier said in a statement on Sunday.
Hearing the requests for help on their travels to Senegal, Friends for Goodness, a group founded by those in cabin and cockpit crews, started an aid campaign in Turkey after contacting the National Association of Albinism in Senegal.
After the campaign received support, the crew met with over 50 albino children and their families, delivering them natural sunscreen and gifts.
Participating in the aid campaign, Turkish Airlines purser Yusuf Babur Ozturk said: "In the regions that need help, we are a nation that is greatly awaited and welcomed. We saw that happiness in the eyes of our albino friends."
"We are happy to be able to provide them even a small amount of protection from the sun. We will continue to extend a helping hand to those who need help regardless of their location," Ozturk noted.
Turkish Airlines cabin chief Esra Kilic, for her part, said: "We travel to a wide variety of locations around the world as part of our job. In these travels, we encountered children dying from hunger in Africa and saw children begging in the streets of Nepal. We saw children struggling against the cold in our country and now we see children with only sunscreen as a means for protection against the sun in Senegal."
Greeting the Turkish Airlines crew at the orphanage construction site in Senegal, Mouhamadou Bamba Diop, the head of the National Association of Albinism, said: "I am an albino with three albino children, and the rest of the world is completely unaware of the people with albinism in Africa. Sunscreen is very important for our daily lives but it is also very difficult to procure and purchase here. On top of that, our people have difficulties accessing education, health solutions, and even food."
Diop urged the rest of the world to "look outside from the windows of their private jets and notice Africa."
Born with a completely white body in Africa due to missing melanin pigment which gives the body its color, albinos are under the threat of numerous health conditions such as skin cancer and sight difficulties.
Although albinism is only seen approximately in one baby out of every 20,000 in the world, this ratio is one baby out of every 500 in Africa. This condition is caused by a narrow gene pool.
In sub-Saharan countries, such as Senegal, this rate is estimated at one out of every 1,000 recorded births. But due to the number of unrecorded births, a higher number is not out of question.