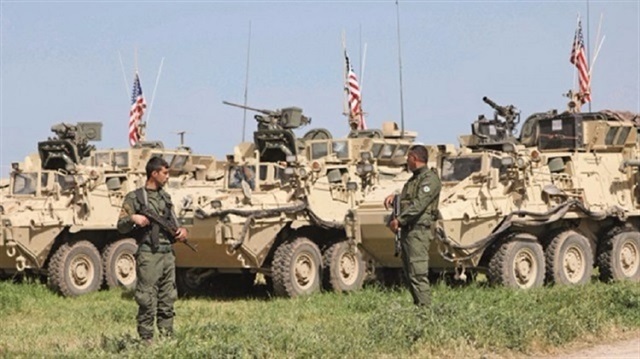 The plan of the United States to form an energy and terror corridor in Syria's north and transform the PKK/PYD into a conventional army under the name of "Border Security Force" to form a permanent threat to Turkey has been thwarted by Turkey's Operation Euphrates Shield and Operation Olive Branch respectively.
By providing the Kurdistan Workers' Party (PKK)'s Syrian branch, the PYD, with arms, ammunitions and financial support, the U.S. aims to form an energy and terror corridor that reaches from Syria's north to the Mediterranean, and transform the terror group into a conventional army in order to form a terror state.
The U.S has supplied the PYD terror organization with more than 5,000 truckloads of weapons to allegedly use in the fight against Daesh, despite Ankara's warnings that the group is the Syrian offshoot of the PKK terror organization.
Washington also aims to form a permanent threat for Turkey, reduce Iran's area of influence and ensure Israel's security by dividing the Middle East.
Counterterrorism efforts strike heavy blow
The plans of the U.S. were thwarted by Turkey's counterterrorism initiatives. Turkey's Operation Euphrates Shield, which was conducted jointly with the Free Syrian Army (FSA), stymied the U.S. plan to form a terror and energy corridor.
In the wide-ranging Euphrates Shield Operation launched in August 2016, the Free Syrian Army -- with the support of the Turkish army -- had cleared 2,000 square kilometers (772 square miles) of land along the Turkish-Syrian border of terror elements.
Turkey's ongoing Operation Olive Branch has thwarted the remaining components of the U.S. plan.
Operation Olive Branch was initiated on Jan. 20 in Afrin to establish security and stability, eliminate PKK/KCK/PYD-YPG and Daesh terrorists, and save locals from their oppression and cruelty.
Afrin has been a major hideout for the PYD/PKK since July 2012, when the Assad regime in Syria left the city to the terror group without putting up a fight.
Pentagon spokesman calls terrorist "General"
The U.S., which is attempting to legitimize the PKK/PYD/YPG by saying that the terror group is fighting against Daesh, has now started to refer to terrorists as top military officials.
Calling the leader of the YPG/PKK-led SDF, Şahin Cilo, "General", U.S. Colonel Robert Manning said that the Pentagon will continue to support Cilo and the YPG/PKK-led SDF militants, The SDF is dominated by the YPG, the Syrian militia of the PKK, in the territories that were liberated from Daesh.
Cilo, also known as Mazlum Kobane, has been a PKK member for 27 years, according to Turkish officials.
The PKK is listed as a terrorist organization by Turkey, the European Union and the United States. The PKK has been conducting armed violence in the southeastern part of Turkey since 1984. More than 40,000 people, mostly civilians, have been killed in the three-decade long conflict.