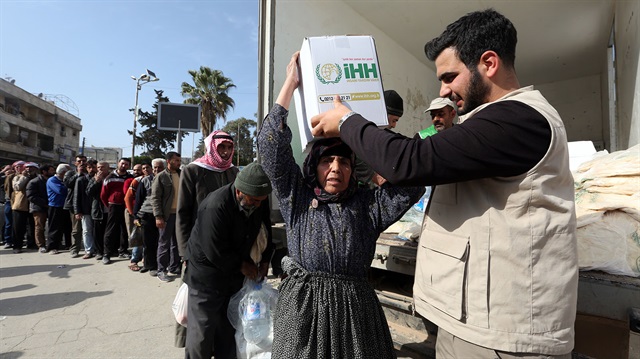 Turkey's Humanitarian Relief Foundation (IHH) on Wednesday delivered humanitarian aid to 1,500 families in northwestern Syria as part of Operation Olive Branch.
Selim Tosun, IHH's media adviser, told Anadolu Agency that food, bread, fruit and potable water were delivered to families in Afrin region from the foundation's center in Turkey's Reyhanli district in Hatay province.
"The civilians in Afrin's center, which has been cleared from terrorists, have been living in difficult conditions," Tosun said.
IHH has dispatched 5,292 food packages, 240,000 pieces of bread, 10 tons of fresh fruit, 6,000 packs of potable water, 2,500 packs of canned meat, 500 personal care items, blankets and pillows to Afrin.
The humanitarian aid also includes a mobile kitchen which can cook meals for 10,000 people every day.
IHH has sent 15,000 truck-loads of humanitarian aid to Afrin since the start of Operation Olive Branch.
Turkey launched Operation Olive Branch on Jan. 20 to clear terrorist groups from Afrin in northwestern Syria amid growing threats from the region.
On Sunday, Turkish-backed troops liberated the town center of Afrin, which had been a major hideout for the YPG/PKK since 2012.
According to the Turkish General Staff, Operation Olive Branch has aimed at establishing security and stability along Turkey's borders and the region as well as protecting Syrians from terrorist cruelty and oppression.