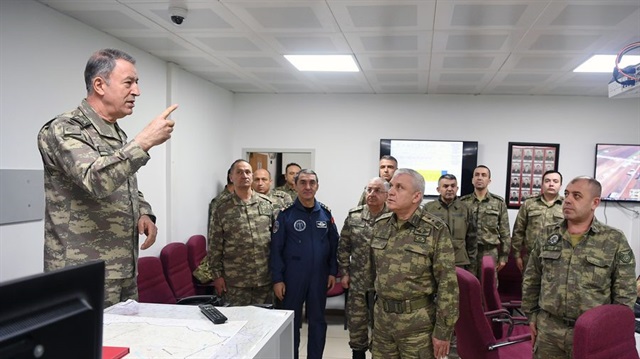 Turkey's army chief on Sunday paid a visit to the southern border provinces of Hatay and Kilis to inspect troops taking part in the Turkish-led counter-terrorist campaign across the border in northwestern Syria.
According to a Turkish General Staff statement, Chief of General Staff Gen. Hulusi Akar was accompanied by the commanders of the Turkish Land and Air Forces, Gens. Yasar Guler and Hasan Kucukakyuz.
The Turkish border cities of Kilis and Hatay are within firing range of the PYD/PKK terrorist group from Afrin, Syria. Since the start of Operation Olive Branch, the PYD/PKK has targeted civilians in Turkey with some 100 cross-border attacks, leading to seven civilian deaths and 125 wounded.
Turkey on Jan 20. launched the operation to remove PYD/PKK and Daesh terrorists from Afrin.
On day 30 of the operation, the Turkish Armed Forces hit PYD/PKK positions within range and sight of Hatay's Reyhanli, Hassa, and Kirikhan districts.
The Turkish Armed Forces also continues to deploy military vehicles at the border close to the theater of operations.
According to the Turkish General Staff, the operation aims to establish security and stability along Turkey's borders and the region as well as to protect Syrians from terrorist oppression and cruelty.
The operation is being carried out under the framework of Turkey's rights based on international law, UN Security Council resolutions, its self-defense rights under the UN charter, and respect for Syria's territorial integrity, it said.
The military has also said that only terrorist targets are being destroyed and "utmost care" is being taken to avoiding harming civilians.
Afrin has been a major hideout for the PYD/PKK since July 2012, when the Assad regime left the city to the terror group without a fight.